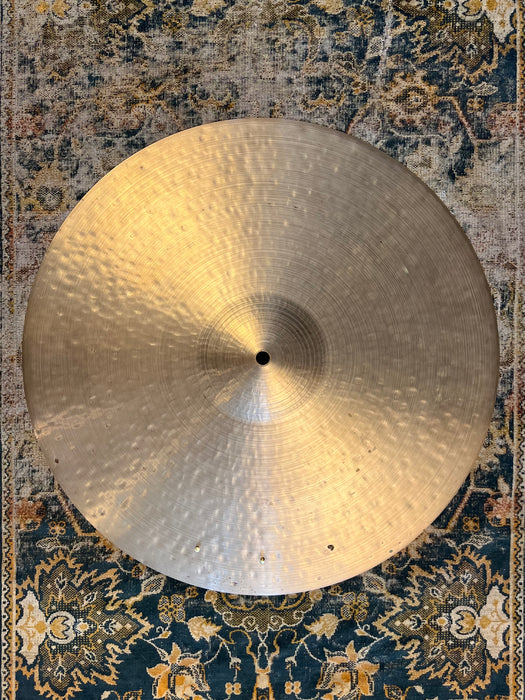 Rare DARK SMOKY COMPLEX MATT BETTIS 21" Crash Ride ONLY 2408 g CLEAN
Original price
$569.99
-
Original price
$569.99
I can truly say I've lived a charmed life - I'VE WITNESSED MATT BETTIS IN THE DEPTH OF HIS CRAFT, and it was a beautiful thing to see, and he's a damn nice guy too.


There are no little Matt Bettis minions in hair nets running around, machine-making cymbals on conveyor belts while Matt Bettis smokes cigars on his guilded yacht. Each Bettis cymbal is crafted by him and in a world of mass production, his one-cymbal-at-a-time approach is a welcomed fresh breeze.


A legend in his own time and this unique Dark Complex 21" Ride a testament to his craft!


Signed by the man himself under the bell! 


And this particular Matt Bettis cymbal is Hand Hammered all over the place! It's amazing. Look at that bell! 


ULTRA HAND HAMMERED. 


Weighing in at a perfect 2408 grams this hand-crafted 21" plays like a Smoky DARK Thin Crash Ride Sizzle. 


Organic, smoky stick attack gives way to a VERY Dark Complex warm wash that lives in the low end magnificently. 


Imagine a Paiste Traditional Light Ride - but DARKER, more organic sounding - as if it was actually Hand Hammered 50 years ago. 


Well, here you go! 


2408 grams makes this 21" unbelievably crashable! This could even BE a Crash Cymbal if it didn't sound so great as a Ride. 


Plays like a THIN! 
Three cluster rivets give this exquisitely crafted 21" a smoky rain-on-the-roof Sizzle. 


Amazing shape. No issues. Golden hue light patina just forming. 


It buoys the spirit to play something not mass-produced. 


Every strike of this beauty reminds you that Matt is a master who has a love of the art and the craft.