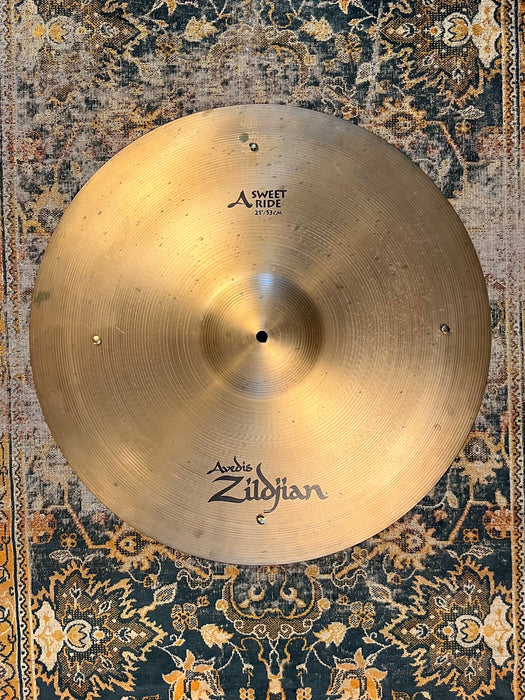 Super MELLOW Zildjian SWEET RIDE SIZZLE 21" 2434 g Glowing Warm
Original price
$259.99
-
Original price
$259.99
Here's a perfect, glowing all-around great-sounding Zildjian that's aged and  dried out for the last 23 years. And that's a damn nice thing on a Sizzle! This is one of the nicest modern Sizzle you will find. Very sweet. 


No need to waste time guessing on what it sounds like.  Have a listen so you can buy with confidence. 


Early Zildjian 21" Sweet Ride that has a beautiful patina for a semi-dry stick attack.  Aged magnificently. 


Very nice crashability and a terrific, large, rounded-over bell for great riding capabilities and a full crashing tone. 


2434 grams makes it a wonderful Medium Thin weight. 4 Brass Rivets for a sweet, glowing Sizzle wash that's controlled. 


Here's what Zildjian has to say about the 21" Sweet:
"One of the world's most popular and all-purpose rides, with beautiful, colorful medium overtones.
A Zildjian Sweet Rides are beautiful, all-purpose rides with colorful medium overtones. Sweet Rides are among the most popular rides in the world, played by a who's who of drummers across a variety of musical genres."


There you have it!! And that's is accurate. And this one is a harder to find Sizzle. 


This Sweet Ride is glowing warm with a great stick attack on top - this particular is super mellow and has a dry stick attack to it too - which is great if you dig some definition on your ride cymbal. 


Crash at the edge for a massive wall of white noise Crash Ride.  


Can easily be your main ride for smooth Vintage Setups, or makes a mellow Left Side Crash Ride. 


Fantastic shape. Light patina. Early version. Phenomenal sounding Sizzle.