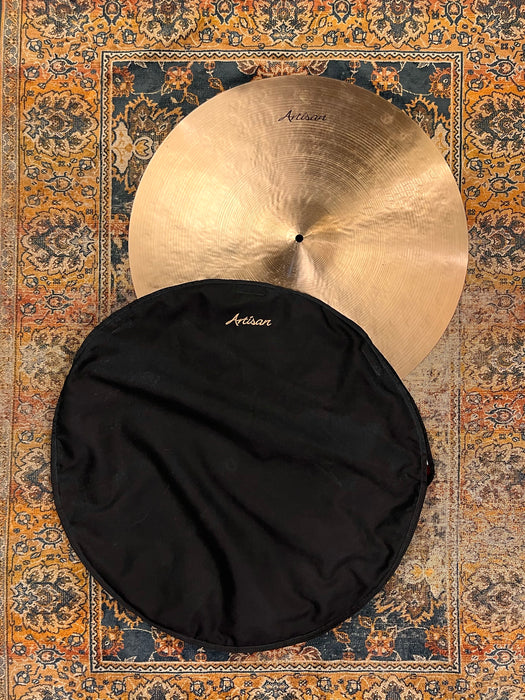 MARK LOVE Anointed Sabian ARTISAN LIGHT RIDE 22" w/ BAG 2439 g Don't Pay $800
Original price
$549.99
-
Original price
$549.99
Damn!!  Sabian one-upped Zildjian!  This Artisan Light Ride 22" is $800 new. 


That's not a typo!  $800.  Even more expensive than a K Constantinople! But you need not pay that!  And you don't have to guess at a stock photo. 


And this glorious beauty was hand-forged by The Master himself: MARK LOVE!  Signed under the bell!


Behold! Terrific looking and sounding FLAGSHIP Hand Hammered Sabian ARTISAN LIGHT RIDE in the generous 22" size and with the ARTISAN BAG. 


MARK LOVE's Signature and the # are under the bell. This is Sabian's finest and most expensive cymbal! Absolutely gorgeous. Hand crafted.
  
Weighing in at a lovely 2439 grams this 22" plays (not surprisingly) like a stunning, golden, airy Light Ride. The tone is dark, warm, organic and wonderfully complex. Overtones are swimming about all over the place- beautiful broad spread! 


The bell is integrated. When you play right under the bell, you get a great slightly-dry stick definition. As you migrate down to the plain of the cymbal, it opens up and the complex wash blends nicely with the definition. At the edge you get an ocean of overtones.


And at 2439 grams this 22" is definitely CRASHABLE. But it does still have enough tension and weight for a great stick attack for a Light. 


You could use it all day as a HUGE Dark Thin Crash.


Sabian describes this 22" Light as:
"Deep, Dark, and Rich. Crafted from pure Sabian B20 Bronze, and hand produced by only our most skilled craftsman, Artisan and Artisan Elite Cymbals represent the apex of creativity in the cymbal world. Unique dark accents highlight the crisp sizzle to create an abundantly full texture that is unparalleled."


 This is Sabian's FLAGSHIP cymbal, and it shows. 


One of the most beautiful cymbals you will come across and forged by one of the best cymbalsmiths out there - he's been doing it for decades. 
  

No issues. Super clean. In the bag.

 Aging beautifully!  And not $800.