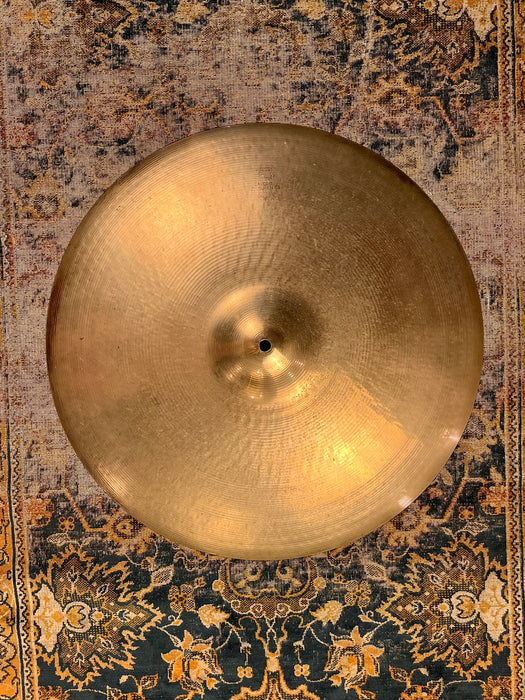 DARK Semi-Dry 1960s Vintage Zildjian 20" Ride Crash 2491 g SMOOTH Med Low
Original price
$339.99
-
Original price
$339.99
Here's a fantastic sounding DARK 50+ year-old Zildjian with a terrific DRY and focused stick attack. The particular beauty has a semi-dark shimmer and it makes a great dark RINGO wash crash. 


Check out the craftsmanship on this one - it's different than most. Ball peen styled hammering on 

the underside. 


Don't pay more money for a guess at a Zildjian trying to re-capture what this Vintage Zildjian does naturally, have a listen and buy with confidence.  


This 1960s 20" has a beautiful, golden patina that gives this Zildjian a distinct, pronounced DARKER chime-like definition and attack but it is mellower than big box store new models.  Hell it's from the 1960s. It's aged half a century. 


After 50 years of aging, it projects but is not harsh sounding or shrill as modern Zildjians can be. The patina mellows and focuses the overtones beautifully to deliver a pronounced stick articulation that sounds like it was plucked off a 1960s recording.


2491 
grams gives this 20" a perfect Medium Thin to Medium weight with a semi-dry definition. Dry for the 60s and medium dark. It's smooth and has an even, balanced tone.  


The bell cuts well but is not overbearing, giving this 20" a great control. 


Crash on the edge and you have a wonderful deep and dark HIGE CRASH - wall of white noise perfect for Classic Rock and all-around ruckus-making.


This is a fantastic, versatile 1960s Zildjian that is great for any style of music. It's the tone that has delivered all the hits dating back the last 50 years.


Quiet to loud settings. No issues. Amazing patina. 


Use this Zildjian for any style at all! Vintage As are always in demand and this is one is smooth with a medium dark shimmer to it.