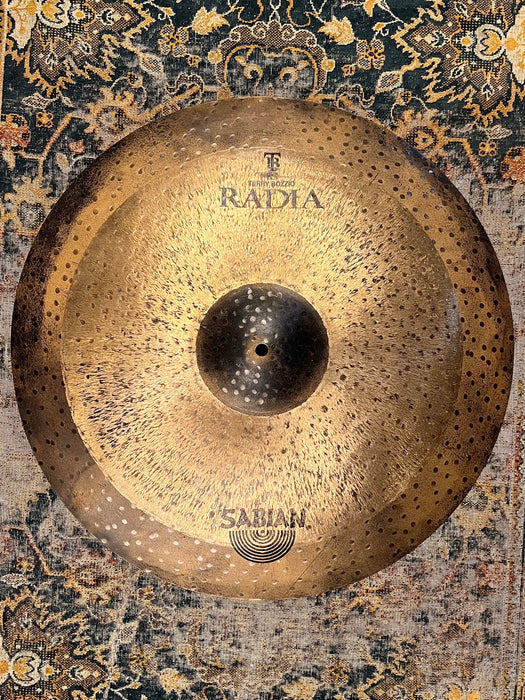 Rare DRY Sabian RADIA 21" Ride Crash 2525 g LIGHT DRY COMPLEX UNIQUE
Original price
$429.99
-
Original price
$429.99
Raw bell. Raw perimeter. And the plain looks like it's from a NOVA SPECIAL.


It must be the Sabian RADIA!!  


You never even see these things around! 


But chez Hazelshould, wonders never cease!  The Radias are some of the most interesting and musical cymbals Sabian ever produced - with the help of Terry Bozzio of course! 


Dry Dark Complex Sabian RADIA 21" Ride or Crash, or Crash Ride. 


At a well-balanced 2525 grams this gorgeous 21" plays like Dry Complex Medium Thin. The craftsmanship and weight give it a fantastic stick attack on top - really pin-point and dry.  However it plays like a Medium Thin and releases this very light and subtle, breathy complex wash that decays very quickly and makes this Radia particularly ARTICULATE. 


Sabian has busted their ass for the last 40 years trying to outshine their family members (Zildjian) and one of the ways they have gained attention in this hardscrabble world of cymbalmaking is through experimentation. Such is the case with this ingenious Radia 21".


As you can see the bell is UNLATHED and heavily Hand Hammered. Followed by what appears to be VERTICALLY LATHED and Hand Hammered glory. The outer 2" ring is UNLATHED and Hammered.


The result is a cymbal that has a wonderful DRY, ARTICULATE, very responsive stick attack but also possesses an organic, breathy and complex vibe - compliments of the vertical lathing an overall RAW treatment!


Lightening-like bone DRY crash accents that are gorgeous. 


A Multi-Application cymbal that's unique, versatile and easily useable on any gig.


Amazing condition. Damn near impossible to find these cymbals today.