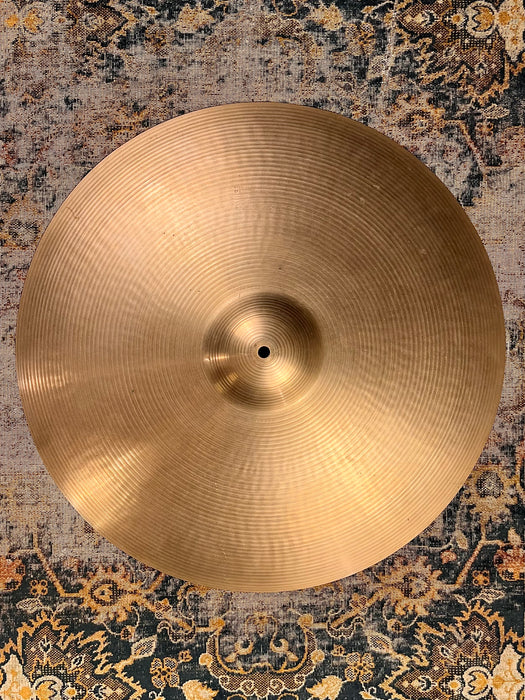 RARE 1973 Vintage Paiste 602 HEAVY Ride 20" 2540 g PHIL COLLINS CLEAN Factory Stamped
Original price
$479.99
-
Original price
$479.99
What do Phil Collins, Bill Bruford and Carl Palmer all have in common? 


Why it's the Vintage Paiste 602 20" Heavy Ride of course!! And it's no surprise as to why. It's very clean with dark leanings. Works perfectly both in live and studio situations! 


And this one is VERY EARLY and CLEAN from 1973!  Wow. Factory stamped "HEAVY" in the classic Vintage fashion. 


Why the living hell pay MORE MONEY for the big box store "re-issue" thats a stock photo you can't even hear!


That ridiculous. 


Just get THIS ORIGINAL REAL DEAL 602 from 1973 and listen to your heart's content! 
This Vintage Black Label Paiste 602 has a DARKER, cleaner, more shimmering vibe than the 1960s 602s. And it projects without bearing overbearing and ugly. 



Weighing in at perfect 2540 

grams, this Paiste 602  Heavy delivers the CLEANEST and most pin-point defined stick attack of any of the 602s SHIMMERING!!


That's the beauty behind the Heavy. It's surprisingly dark and has a wonderful crystalline, chime-like stick attack that penetrates a mix perfectly without being overbearing.



Very clean and smooth with a defined articulation. Darker leanings. 

And as you would imagine, the bell is SOLID. But not brutish like some 90s era Signatures can be. 


It's no wonder so many classy drummers played this Vintage Heavy. 


It's amazingly smooth for both live and recording situations.


And it's damn near impossible to find. And this one harkens from the glory days of rock - 1973! One of the earliest HEAVY 602 you will find. 


Great shape. The nice patina that has built up and mellows it beautifully. Factory logos light but still visible. Overall golden and clean! 


Don't spend more on a ubiquitous big box store "re-issue!"



This Vintage Original 602 20" from '73 is 

exceptionally rare and a joy to play!


You can't re-issue a life lived!