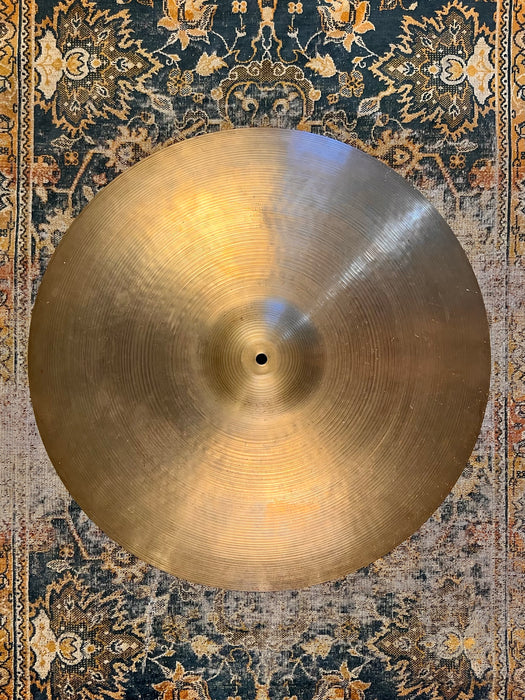 BIG Light 1960s Vintage Zildjian 22" Light Crash Ride ONLY 2542 g
Original price
$329.99
-
Original price
$329.99
This is a fascinating Vintage 1960s 22" - it's nowhere near your typical Zildjian 60s Ping Ride or Rock Ride. This 22" plays like a true LIGHT RIDE or massive MEDIUM THIN CRASH RIDE. 


The profile looks like a 22" CRASH - that's the vibe. 


Extremely Full Crash Ride - like something off the stage at WOODSTOCK. Perfect for the 1960s tone! But play it lightly and it has a dancing, airy complexity that percolates. 


Classic 1960s Zildjian lathing. It has a bit more airiness and complexity than the later era models. 



With a fairly thin 2542

 

gram weight it lives in the Thin to Medium Thin Ride to Medium Thin Crash range for a 22", but it has a light, mellow semi-bright attack that is followed by a soft and subtle, fairly complex wash.


What's amazing is that you can play this big 22" very, very lightly and softly and it still sings.  The dynamic range on this one is amazing.


Extremely well balanced with light leanings. 


When you open up on it and crash, it unleashes a torrent of 1960s Medium Thin Crash tone - perfect as a big 60s Crash, or great for Crash accents when you're playing at lower volumes and just need a punch.


Fantastic 6" bell is incredible for rock, but pull out to the plain and you have one hell of a great Light Jazz or Blues Ride.


Again, this is an incredibly versatile 22" - you don't find a cymbal that can go from 1 - 10 and remain musical often. 


Terrific shape.  No issues. Gorgeous half-century old golden patina and it's in great shape for being that old! 


Wonderfully versatile 22" from the golden age of both rock and jazz.