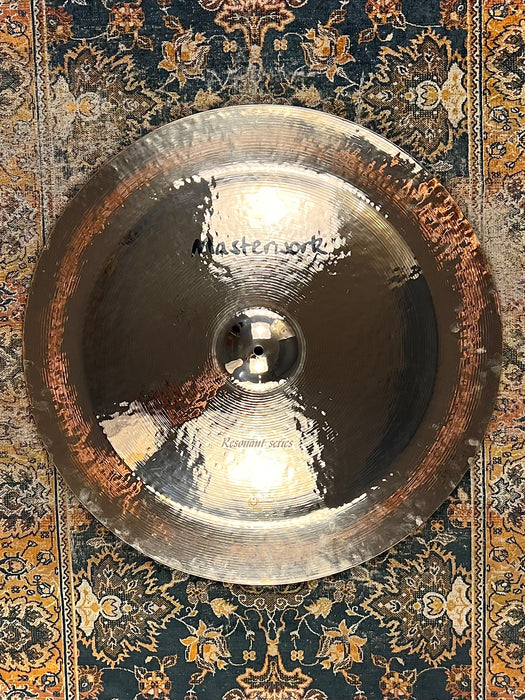 UNIQUE ULTRA DARK Masterwork PROTOTYPE 26" Swish China Pang 2617 g MINT BRILLIANT
Original price
$399.99
-
Original price
$399.99
Here's one of the DARKEST Swish Chinas your will ever hear! 


Hell, I've never seen this before: 26" BRILLIANT FINISH fully lathed  SWISH PROTOTYPE. Yes. That's a 26!" And it's a joy to play.


And at only 2617 grams (this is a 26" mind you,) it's remarkably thin and extremely responsive. It opens with the lightest glance of a stick but also roars like thunder through a canyon.


All with the dark SHIMMER of a Brilliant Finish too. 


This gorgeous Hand Hammered Masterwork 26" Prototype is a beautiful tribute to those nearly mythical Vintage 1940s and 50s Zildjian Swish Cymbals that you only see in a black and white Vintage Zildjian ad from days of yore.


Beautifully lathed. Ultra dark, warm and complex with a medium quick decay for such a massive beauty. 
Exceptionally exotic and complex sounding.  Incredible swells - very musical - as mesmerizing as a gong.  


So beautiful it could be a symphonic piece.


Gorgeous sultry, dark and smoky tone. Heavily Hand Hammered generous playing field makes it the perfect alternate ride!


Slightly dry for riding. 


The edges bend and wobble - and that's simply magnificent of a massive 26".


Glorious 4" flanged edge! 
Crashes like a tidal wave. Warm organic stick definition as a Ride. 


Musical from a whisper to a roar.   


One of the darkest cymbals you will ever hear. 


Head turning both live and in the studio. Nothing like this out there! Use it everywhere.