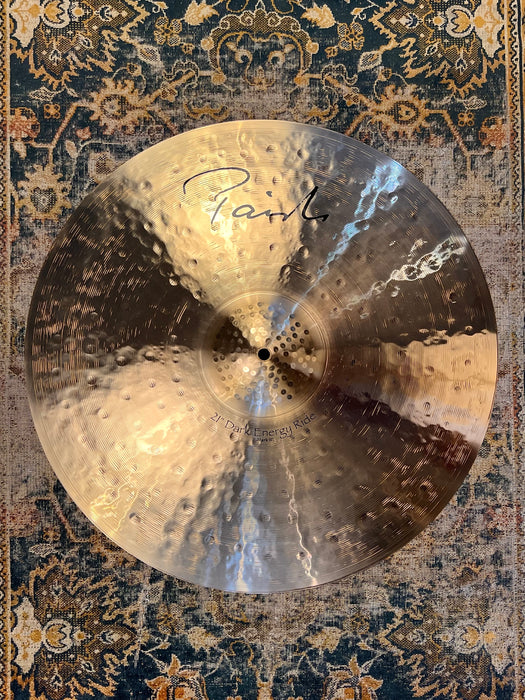 Dark Warm Paiste DARK ENERGY Ride MARK II 21" 2624 g PERFECT
Original price
$469.99
-
Original price
$469.99
This is and extremely versatile and even sounding Dark Energy.  And it's in perfect condition. 


Hardly anyone actually has these in stock - not just a google stock photo but in-stock where you can actually HEAR IT so you can buy with confidence. 


Paiste Dark Energy MARK II 21" Ride in amazing shape - only played for the video. As new as you will find in the flesh. 


Paiste describes this cymbal as:
"A fusion of darkness, energy, projection and brilliance. Very wide range, complex, musical mix. Responsive feel, extremely controllable. Woody, silvery, spanky ping over crunchy, thriving wash. Extremely versatile, flexible ride for wide ranging application in modern blended music styles. Mark I: Tends to be a bit quieter, darker and drier. This manifests itself in the overall sound character and in particular in the bell and ping sound."


As for the "woody" and "spanky," those words should never be used in the same sentence. Gross! C'mon now Paiste.  


Weighing in at a perfect 2624 grams, this Dark Energy Mark II 21" plays like a great DARK WARM Medium Thin or Medium Ride. The tone is organic, warm, and the attack is prominent but not overbearing and clanky.  


Again, this specific Dark Energy 21" is extremely well-rounded and smooth sounding for the series.  It's a perfect blend of dark, clean and organic - Dan and that's damn near impossible to find. 


The bell is SOLID and medium low pitched. Crash on it for a roaring darkness. 


Goes from very quiet to loud settings with ease.  


Amazing condition - as fresh as tomorrow. 


This has been Paiste's FLAGSHIP CYMBAL for 2 decades, and you can tell.  And you can hear this one first.