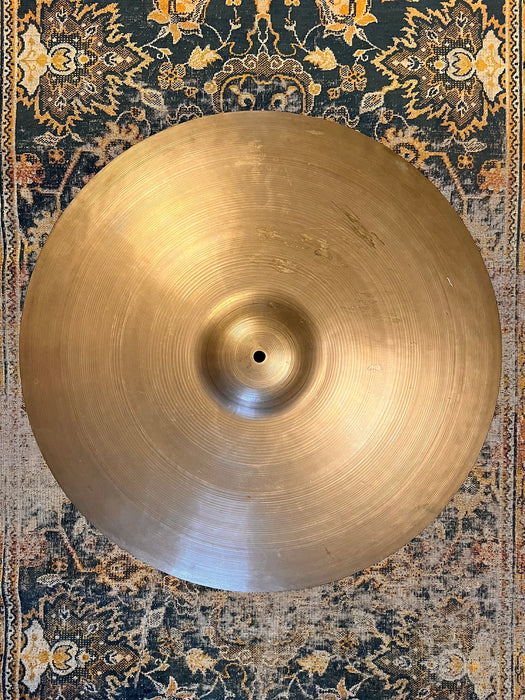 Amazing LIGHT COMPLEX Vintage Zildjian 1950s 22" Ride 2662 g Hand Hammered
Original price
$499.99
-
Original price
$499.99
No need to shell out $680 for a re-creation "vintage homage" Zildjian cymbal.  


Just get the real one that is actually Hand Hammered and was forged when "Kind Of Blue" was being recorded.  Literally.  


Beautiful Vintage Zildjian 1950s 22" Hand Hammered Light Complex Ride is amazing condition.  Stunning Hand Hammering with very smooth lathing and a chocolate brown patina.  
This 22" actually sounds like it has rivets in it - even though it doesn't. It's light with a delicate, whispy airy tone. 



This 60-year-old 22" has a nice, subtle umbrella-shaped profile that gives it a bit more spread than your average 22" 

Ride and the edges are smooth and taper down. 



With a 

2662 

gram weight it lives in the Thin Ride Light Complex Ride range, 

it has a soft, mellow semi-dry attack that is followed by a delicate but lively, fairly complex and organic wash - that's the Hand Hammering talking.  


What's amazing is that you can play this big 22" very, very lightly and softly and it still sings. The dynamic range on this one is amazing.



When you open up on it and crash, it unleashes a torrent of Vintage 

Crash tone but in a Massive 22"! And the spread is broad.  


Fantastic 5.5" bell is that is solid for a thinner cymbal. 


This is an incredibly versatile 22" - you don't find a cymbal that can go from 1 - 10 and remain musical often - although I would not slam on it because it is thinner. 


Amazing shape.  Tell tale Hand Hammered waviness on the plain. 


Wonderfully versatile 22" from the golden age of both early rock and jazz.


Don't pay more for a modern "vintage homage" cymbal masquerading as old timey. 



Just get the actually Hand Hammered real one.