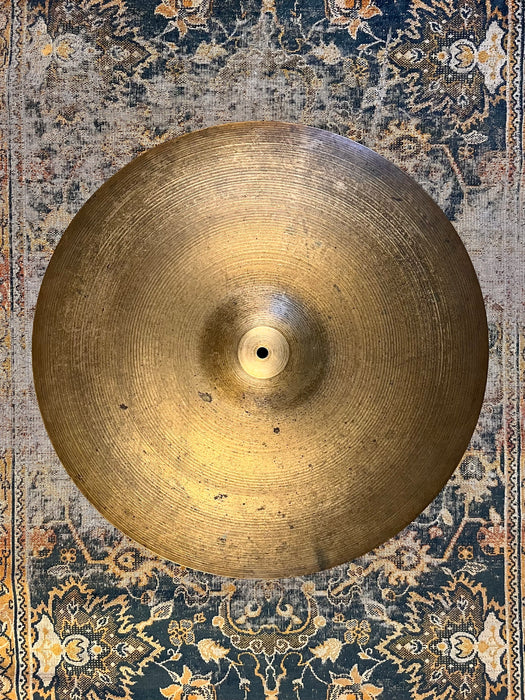 Ultra RARE ROCK 21 1970s Vintage Zildjian 21" ROCK Ride 2727 g DRY
Original price
$239.99
-
Original price
$239.99
Here's a very rare Zildjian! The 1970s "ROCK 21" Rock Ride.  And it's wonderfully dry too!!  
This beauty has 70s written all over it!!  Amazing focused and articulate attack with a great cutting bell.


This one is surprisingly DRY sounding too - with a bit of complexity mixed in there. 


Factory black ink "ROCK 21" it's faded but in the right light it's clear. 
This Vintage Zildjian ROCK 21 21" has all the hallmark aggressive, focused definition and fantastic bell tone you would expect from the rocking 70s.  


This particular 21" is very dry and has a pronounced stick definition. Very articulate. 


It's mellowed compliments of the last 40 years and the beautiful patina dries out the tone. 


Weighing in at a healthy 2727 grams, this 21" has a Medium Heavy constitution-exactly what you would expect from a 70s Zildjian.  


The attack is like a darker, more focused Ping Ride and aggressive and cuts quite well.


The pitch is medium for one of these and it cuts extremely well. 


THE BELL IS MAGNIFICENT! 


Crash Ride on the edge for a massive wall of white noise that's like you're in Black Sabbath. 


Classic Vintage 70s tone that's heard so often it's in our subconscious. 


No issues. Terrific four-decade old patina.  


Perfect for straight up 1970s rock and funk and bell even Big Band. The Real Deal! 


Extremely rare to find this KING among the hallowed bronze of the 1970s