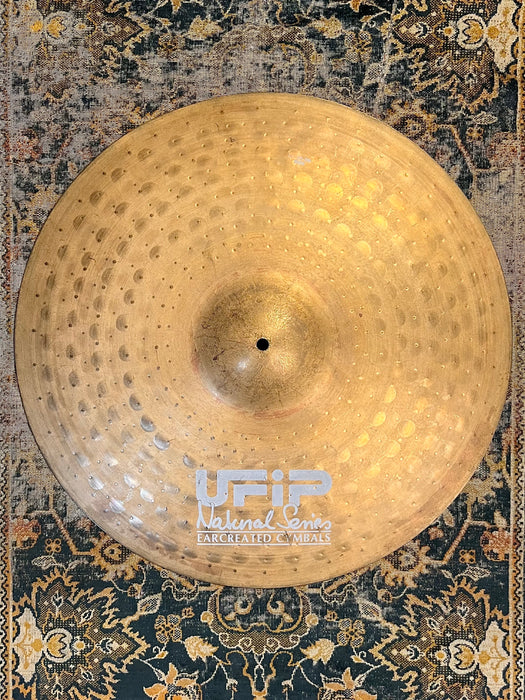 Hard to Find DRY DARK UFIP Natural 22" Ride 2790 g CLEAN
Original price
$319.99
-
Original price
$319.99
This 22" is one of my favorites! Have a listen - dark, dry, organic and it still plays with a light softness to it. 


You hardly ever actually find these in the wild! Well this one you can listen to so you can buy with confidence.  


With a Raw top and a golden, thinly lathed underside, this Italian 22" has a great controlled stick attack but still has a pinch of complex wash!  


Juuuuust a pinch! Overall this particular Natural is DRY - but it keeps a softness to it too. It doesn't play super stiff like some dry rides do.


Weighing in at a lovely 2790 grams this UFIP plays like a Dark, Dry, Medium-Thin to Medium Ride. As you can see, the top is Unlathed and Raw and it has heavy hammer marks-like a Zildjian K...but different. The bottom is finely lathed and allows the wash to open up a little bit and breathe.


 Overall this 22" has a very DRY vibe - compliments of that RAW top surface cymbal.


The bell is FANTASTIC sounding and very solid!


And the controlled nature of this 22" would make a wonderful candidate for rivets if you're looking for a dry sizzle ride.


The pitch is Medium Low to Low.


Dry stick attack followed by a shadow of  complexity and organic wash that remains very controlled. Medium low in pinch with a dark timbre and earthy vibe. Crashable but still controllable. The wash is medium fast, compliments of the raw surface.


That is this hard to find big 22".  


Super clean logos.  Extremely clean.  An incredible cymbal.