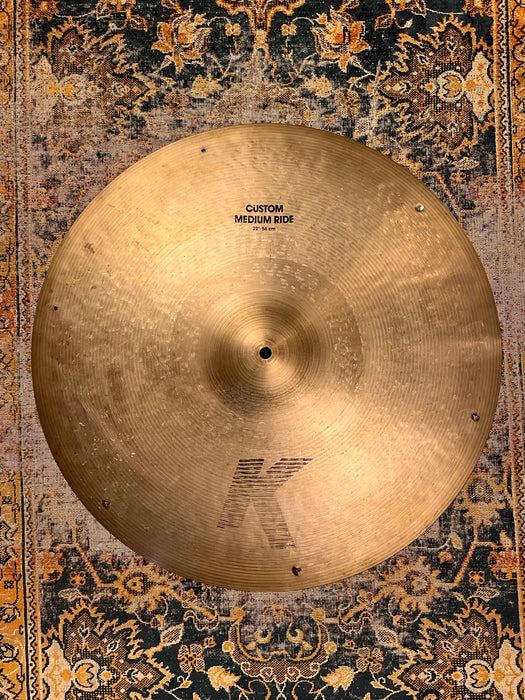 EARLY DRY Zildjian K CUSTOM Medium Ride 22" 2764 g Smooth Light Sizzle Complexity
Original price
$349.99
-
Original price
$349.99
Early nearly 30 year old

 Zildjian K Custom Medium Ride in the generous-sized 22".  


Don't spend $530 on a stock photo and a guess.  Hell this beauty is one of the EARLY K Custom Mediums with a different hammering and lathing. 


Befriended by Father Time, this 22" K Custom is one of the drier ones you will hear.  The last 3 decades have mellowed and aged it beautifully. 


2764 grams - plays like a Dry Medium Thin to Medium. Primed for 6 rivets in the classic vintage configuration , outfitted with four. Controlled with a subtle, light wash. 



For this series, this 2764 

gram 22" K Custom is a fantastic blend of strong stick attack mixed with a gorgeous dark and slightly complex tone. 


These Early K Customs have a different tone. 


Famously Lathed top, unlathed Brilliant finish underside, and that gives this K Custom Medium a terrific stick attack.  Half lathed and half unlathed. A perfect balance of attack and wash. 


Being the 22" this is cymbal is much darker and lower pitched than the smaller 20" brother.  These 22s" are not that easy to find.


Extremely solid and cutting Bell that had no problem cutting through a mix. 


If you want a K that has a terrific cutting attack but remains dark and smooth with a light earthy-ness, here you are. 


No issues.  Aged magnificently over 30 years.  No need to spend $530 on a big box store Zildjian and then wait 30 years for it to mellow.