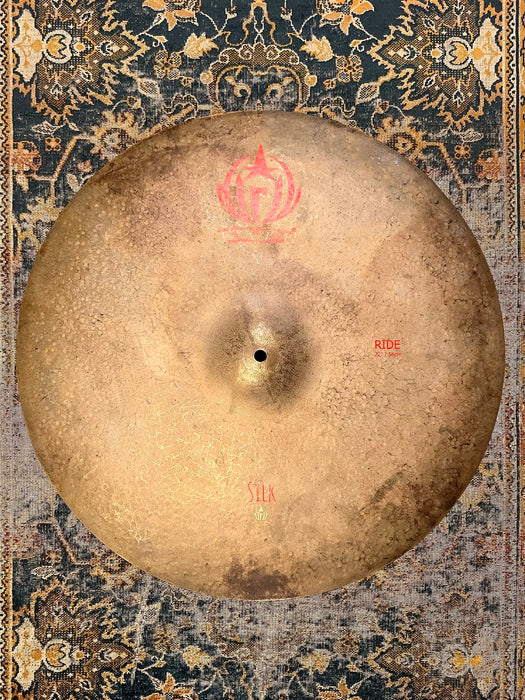 DRY COMPLEX 1/2 TURK Murat Diril THIN Ride 22" 2774 g 1/2 BRILLIANT
Original price
$299.99
-
Original price
$299.99
Here's fantastic and unique one-off BLEND of characteristics. 


This glorious 22" is one of the nicest DRY COMPLEX Rides you will find. 


Look at the craftsmanship on this beauty - it's a perfect mosaic of raw and unlathed Turk Style with a golden BRILLIANT lathing on the underside. The bell is raw and sloped upwards for a controlled stick attack. 


The hand hammering is random ball peen hammering that creates a rippled wavy surface like a Turk or HH Raw Ride. 


Meanwhile…the underside is fully lathed and Brilliant. 


It has a dry attack compliments of the unlathed Turk top and also has a fantastic organic complexity to it, thanks to the Brilliant lathed underside. 


There's no question this Murat Diril 22" is hand crafted. It has a different look, tone and playability than other companies. 


Really look at the closeups. The surface is raw with organic golden veins coursing through the plain. 


At a Goldilocks

 

2774 

grams it's the perfect Medium Thin COMPLEX RIDE. Dark. Very organic and with a hint of smokiness. 


What isn't to be expected is the papery, LIGHT complexity that wafts off each strike. This cymbal has an extra airy-ness that floats above the stick attack. 
Broad with highs and lows present. Very responsive for a cymbal of this weight. All with a medium quick decay. 


Levels great crash accents when riding - lightening-like! 


This one really is a potpourri of characteristics - try to pick them out while listening. 
Meticulously crafted - as you can see.  
Immaculate condition. Perfect.


These are very hard to find - especially where you can hear it first!  And it's a beauty!