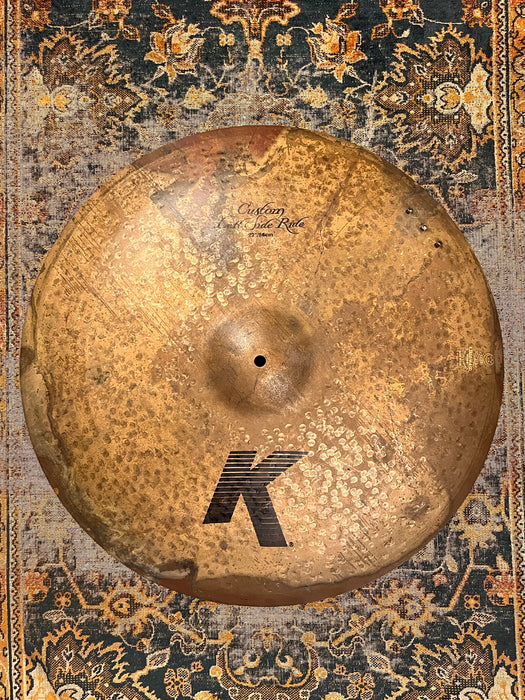 Rare DISCONTINUED Zildjian K Custom LEFT SIDE Ride SIZZLE 22" 2788 g CLEAN
Original price
$439.99
-
Original price
$439.99
Looking for a Dry 22" with a subtle, lively sizzle? 


GET THIS! 


Because it sounds incredible! Dry. But with a lightness. 


This is the Zildjian you wish they still made, the 22" size makes it lower and much darker in tone. Overall it plays softer and smoother than any 20" K Left Side could dream. 


Gorgeous and no longer made BIG 22" Zildjian K Custom Left Side Sizzle Ride in magnificent shape. 



Weighs a lovely 

2788 

grams giving it a perfect Medium Thin play and weight.  


Sometimes these K Customs take a lot to get them to move - that is not at all the case with this beauty. 


Zildjian describes their K Left Side as:
"Developed by clinician and session great Peter Erskine, it is dark and dry as desert nightfall. Its deliberately distressed finish and articulate, full-bodied stick definition make this cymbal an essential part of any setup whether as your main ride or as a side ride.  Its dark, controlled tone helps to stick patterns come across cleanly. Three Rivets add subtle, lingering sustained to con keeping accidents and crashes."


Now imagine that in the rarer 22" size. 


See! It really is nice. 


This K Custom Is DRY BUT NOT DEAD. It has more subtle body and warmth than the Dry Rides and the smaller 20" version. 


3 factory brass cluster rivets supply the lightest hint of afterglow sizzle - it is very subtle and honors a bit of that Old School vintage throwback sound.


Again, this particular one has a lovely hint of complexity and body for the series. 


If you want a stick attack, but want it dark and to have a great dynamic range and be responsive, this is a fantastic choice!!


Much thinner, darker, and more responsive than the straight-up K Custom Dry Ride.  It's a very different cymbal. Much easier to crash. 


Clean. Strong logos. Every 22" in this series I've ever seen has subtle waves on the edge as this one does.  All of the 22s" have it. Amazing shape. Very clean. 



A killer sounding 22" K Custom in great shape you just can't find these days.