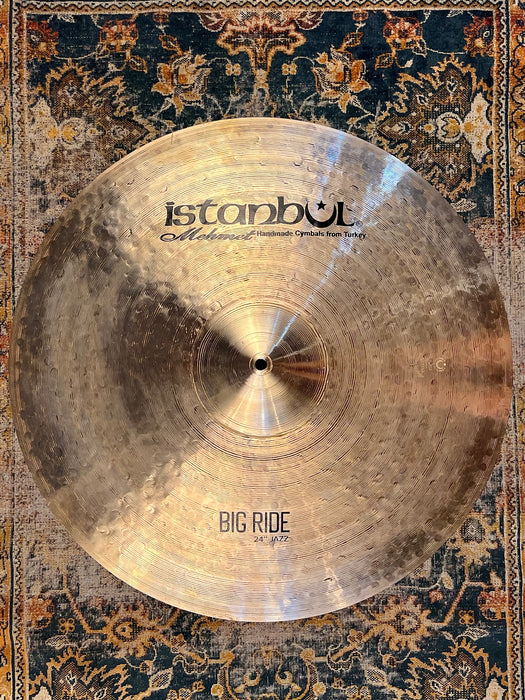 RARE THIN Istanbul Mehmet 24" BIG RIDE Jazz Only 2797 g MINT
Original price
$449.99
-
Original price
$449.99
Here's one of the nicest sounding lush and dark, smoky TWO FOOTERS you will hear.  And hardly anyone actually has this beauty!  


No need to spend $700 on Zildjian K Light 24" that is no where near as dark and musical and LIGHT as this rare 24"  
This Istanbul sounds like a 60-year-old cymbal. And it's one of their newest cymbals but it's very rare. 


Istanbul Hand Hammered 24" BIG RIDE Jazz in Immaculate Condition. And this is wonderfully warm and thin - one of the thinner cymbals they have ever offered.  


This gorgeous 24" is very close to their Legend Dry Series but it's thinner. 


Wonderfully DARK with slightly bendable edges that wobble. Hints of DRYness, medium quick decay for such a large cymbal. 


It's remarkably reminiscent of an Agop SE Special Edition Ride …but it CRASHES much easier and is more lush. 


Dig the GORGEOUS circular Hand Hammering with very fine subtle golden and brown lathing. 


Very thin weight at only 2797  grams. Remember this is a 24". 


Very DARK with a solid foot in smoky. And it's musical too.   


Extremely responsive at lower volumes, and that is a beautiful thing on a massive cymbal. 



It actually has an ounce of Crash Of DOOM to it. 

That's how dark it is! 


With a light touch you can play this beauty as a THIN DARK RIDE which is exactly what the purpose is. 


It has a great subtle definition and still emits a dark, hand-hammered wash that's fairly controlled compliments of that craftsmanship. 


Plays like a gorgeous enormous THIN DARK CRASH or very Light 24" Ride. 


This is an incredibly versatile 24" with a very broad dynamic range!  Very quiet to loud. 


Immaculate condition. Only played for the video. 



An incredible sounding, rare Hand Hammered 24" 

you won't find anywhere else. 



Pound for pound as nice as anything out there!