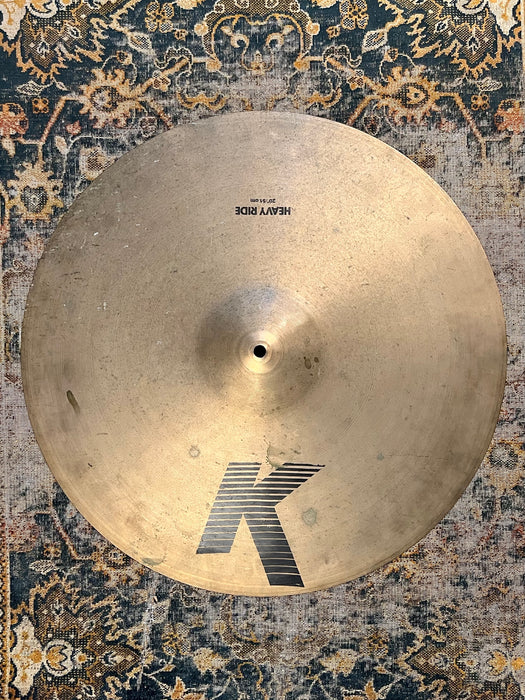 RARE Vintage Zildjian EAK K Heavy Ride 20" 2842 g DARK DRY GADD
Original price
$399.99
-
Original price
$399.99
I absolutely love EAKs! They are fantastic instruments and a piece of cymbal history that you can actually PLAY!


Don't pay more for a big box store K.  This the Hand Hammered First Series American K! And it's one of the DRIEST you will hear!


The Original 40 year old Zildjian EAK 20" Heavy Ride in fantastic shape!


Dark. Dry. Supreme definition. Low pitched. Cuts exceptionally well.  Steve Gadd vibes all day.


And dig that craftsmanship. Wavy surface, very fine, leaving with the gradually sloped bell. Telltale 80s EAK.  


Weighing in at a lovely 2842 grams this EAK plays like a fairly DARK Medium to Medium Heavy Ride. The tone of the bell is remarkably solid-especially for an EAK. It's slightly integrated and cuts extremely well. As you migrate down to the plain of the cymbal, you get a strong chime-like prominent definition followed by a medium low, dark wash that is controlled but still present.


The attack is solid and as far as EAKs for, this one is DRY.


A perfect blend of warmth, dryness, organic tone with terrific stick articulation followed by a subtle slightly complex wash.


Steve Gadd famously used these for years! And you can tell.  That's the sound.


Perfect for anything low to loud.  This 20" has no problem cutting but remains dark and musical in softer settings.



No issues.  Hard to find. Gorgeous 4 decade old patina mellow and dries it beautifully!