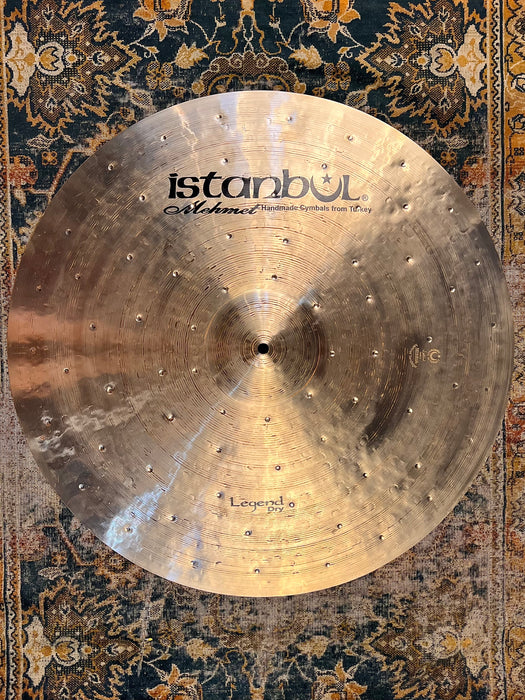 ULTRA DARK ISTANBUL Mehmet LEGEND DRY Ride 24" 2874 g PERFECT
Original price
$439.99
-
Original price
$439.99
Here's a RARE 2 FOOTER!! A TRUE DARK RIDE. Like the darkest you will ever hear! 


This is a newer offering and it's in perfect shape. And it's the only one I have!!  
  

THE LEGEND DRY!!! (not the dark.) And in the largest 24" size.  


Bendable edges on this one too!! And that's incredible on a massive 24".  


And this beauty is indeed also VERY DARK - a gorgeous instrument! STUNNING craftsmanship on this cymbal. Look at the closeups. All 24" of it. 


Mehmet has filed away under their "Jazz" line. Which is appropriate since this 24" is based off what was formerly known as the Mel Lewis Ride back when Agop and Mehmet still knew how to play nicely together.


HOWEVER, this being the "DRY Legend" the craftsmanship is NOTICEABLY different - dig the SUPER HEAVY HAND HAMMERING  


Here's Mehmet's take on this new Legend Dry:
"The new Legend Dry cymbals have the same profile and weight as Legend Cymbals, but the shallow lathing and hammered bell results more complex and drier sound."


And at 2874 grams this Legend is easily crashable!! It actually has an ounce of Crash Of DOOM to it! That's how dark it is!


This particular 24" is exceptionally dark and low pitched. It has great subtle definition and still emits a dark, hand hammered wash that's fairly controlled-compliments of that Dry Legend style craftsmanship.


This 2 foot Legend has a Classic Turkish low-profile, beautiful lathing and hand hammering, a nice hand hammered bell.


Plays like a gorgeous CRASHABLE THINNER DARK Ride or even Dark Crash Ride!  And it is wonderfully complex. Just beautiful. BUT the stick attack still stays on top. THAT is the ISTANBUL magic.


And this is christened "DRY" for a reason.


I simply marvel how they do it-great stick attack but still dark and balanced. And this Legend Dry is wonderfully responsive at lower level volumes - again, it's a thinner 24". 


 This is a kickass Left Side Crash Ride, especially if you dig Dark and fairly Smokey tones!


And this 24"  would be a terrific candidate for rivets if you're so inclined.


Very Low. Very Dark. Crashable. Complex. Still with an element of DRY!  


Perfect shape. Only played for the video. A phenomenal 24" - one of the finest you will hear!