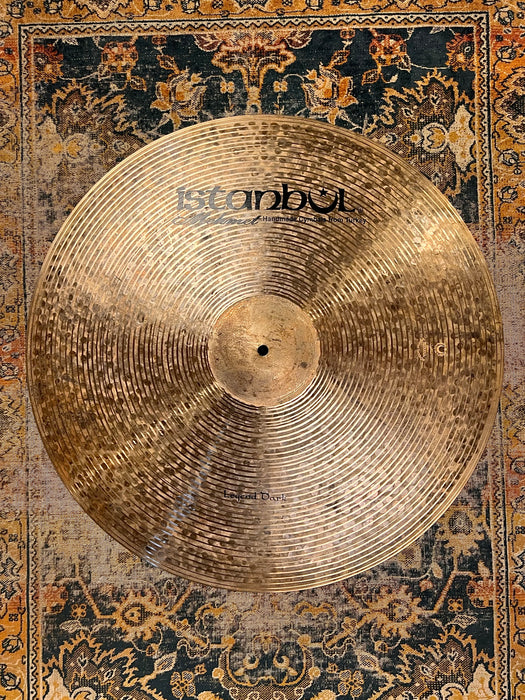 Hard to Find SMOKY Istanbul Mehmet 24" LEGEND DARK Ride 2934 g
Original price
$439.99
-
Original price
$439.99
Here's one of the nicest sounding dry, smoky TWO FOOTERS you will hear.  And hardly anyone actually has this beauty!  


No need to spend $680 on  Zildjian K Light 24" that is no where near as dark and musical as this rare 24"  
This Istanbul sounds like a 60-year-old cymbal.


Istanbul's LEGEND Series (also known as the MEL LEWIS Series) is, well, legendary. 


It has long been one of Agop and Mehmet's best-selling series. It put them on the map 30 years ago.


Mehmet expanded the series and this LEGEND DARK is one of my favorites. As you can see it has a wide-lathed, alternate gold and brown top side - like a Turk mixed with a Traditional, while the underside is fully lathed like a Traditional or regular Legend series.  Very Agop Sig Ish. Or Bosphorus New Orleans but darker.


The result is a stunning, semi-dry stick attack with a smoky, organic, fairly complex wash - but that wash dissipates fairly quickly for a big 24".

The bell is strong but also a bit above a mini-bell, giving this glorious 24" great control!


At 2934 grams, this 24" is very responsive and easily crashable. 


Exceptionally musical - generous playing field. You can pull out myriad tones depending on where you strike it. 


Massive, lush mallet rolls and crashes! THINNER EDGES. 
Semi-dry. Organic. Dark. Smoky Fairly complex. Medium quick decay for a 24". Easily crashable.


Immaculate.  Only played for the video. 


One of the most beautiful looking and sounding 24s" you will encounter!