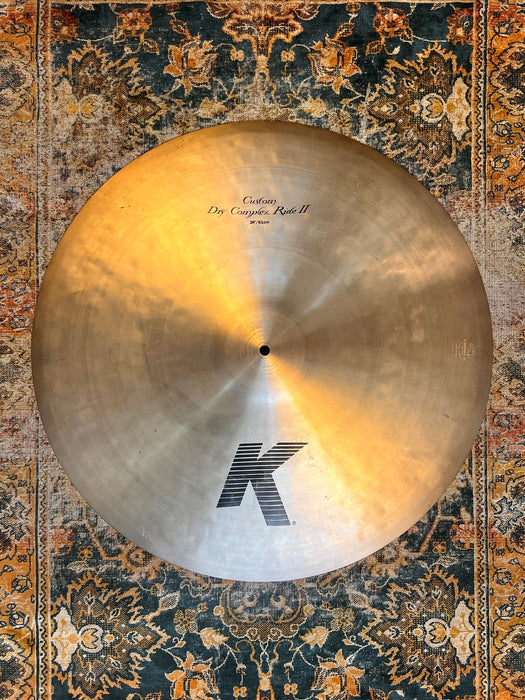 ULTRA RARE Zildjian BILL STEWART 24" K Custom Dry Complex Ride # 12 2966 g DRY
Original price
$949.99
-
Original price
$949.99
Here's one of the most collectible modern Zildjians…


#12 BILL STEWART 24" K CUSTOM DRY COMPLEX Ride 2. One of the driest of all Dry Complex Ks. This is the twelfth one of these ever produced - and there weren't many made - especially in the generous 2 foot size! 


I love finding an iconoclastic Zildjian - something that just sounds like Zildjian NEVER would have made it! But I hardly ever find that because Zildjian is so conservative and waits for the other companies to test the waters and then they swoop in with their gilded yacht and float….


Well that's not the case with this 24" Bill Stewart Ride. And that's why this has become one of the most collectible of all modern Zildjian cymbals. It sounds like nothing they produce - and they got the name right too. But in this case, I'd call this VERY Dry and Complex. 


In fact, this is the driest Dry Complex I've ever encountered - at that included all the sizes. 


Massive 24" with a steep profile that's very K Constantinople looking but with a low profile flattened bell. The underside has an earlier High Def appearance while the outer 2 inches are unlathed for that scent of dryness. 


Thinner weight for a 24" at 2966 grams.


Crashes beautifully - unlike any other Zildjian crash I've heard. Very focused, truly DRY stick attack for riding - especially for being lathed. 


A standout cymbal in any genre and an inspiration, like its namesake. 


No Zildjian does this. The 12th one made - a unique 24" that's a blast to play and can take YEARS to find. 



No issues.  Original. Collectible.