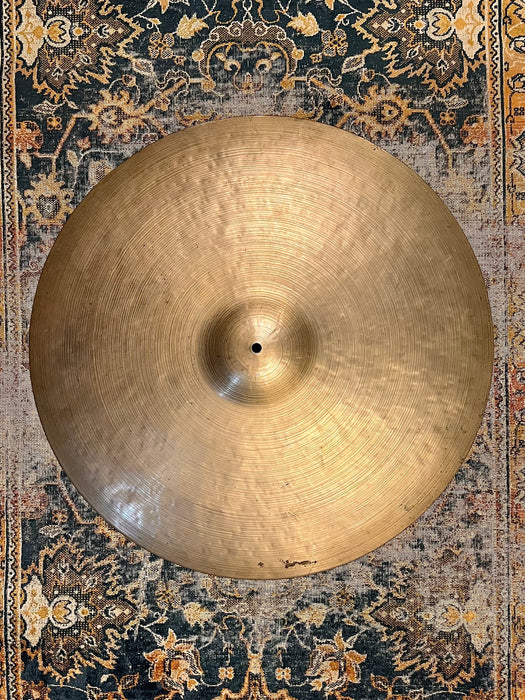 Perfectly DRY Vintage Zildjian ISTANBUL K 22" Ride 2986 g w Light Shimmer!
Original price
$2,599.99
-
Original price
$2,599.99
Everyone knows what this is…the cymbal cymbal-makers have been trying to make. 


And this one is very Tony Williams - esque! Amazing, dry stick attack. Have a listen! It has Old World dry attack with that unreproducible, hand hammered Istanbul K breathiness! 


I'll keep it simple:
Wonderfully DARK AND DRY and focused yet still crashable 22" REAL DEAL Vintage Zildjian handcrafted at the Turkish Zildjian ISTANBUL K Factory over half a century ago.


Exceptionally organic sounding with a natural, shadow of a smoky wash.  Dry with that inimitable Old World subtle complexity.  



2986 

grams gives this 22" one of the best straight-up stick attacks while the ripples of Hand Hammering fan throughout the entire plain. 


Plays like the perfect Medium Thin to Medium Dry Complex Ride - it has enough heft to give it a very pronounced stick attack that has an organic, subtle light liveliness to it.  


Again, very Tony Williams styled stick definition with a dark, subtle Hand Hammered afterglow. 


Beautifully sculpted profile that ends with a pronounced tapered edge that invites that billowing crash - and that's a beautiful thing on a 22".


5.5" bell is solid.


Stunning golden brown patina has built up over the last half-century and dries this K out beautifully. 


No issues. No cracks, dings etc.  Hand made.  Glorious.


As nice a piece as you will see.


Thinking of starting a cymbal company - start with this.


This Istanbul K 22" is to be celebrated for its history, cultural musical significance, artistry, and its sound.


Forged in Turkey, it's been making music for the last half-a-century and has much more to say.



When perched on your kit, you don't walk by…you sit down…and take one moment longer.