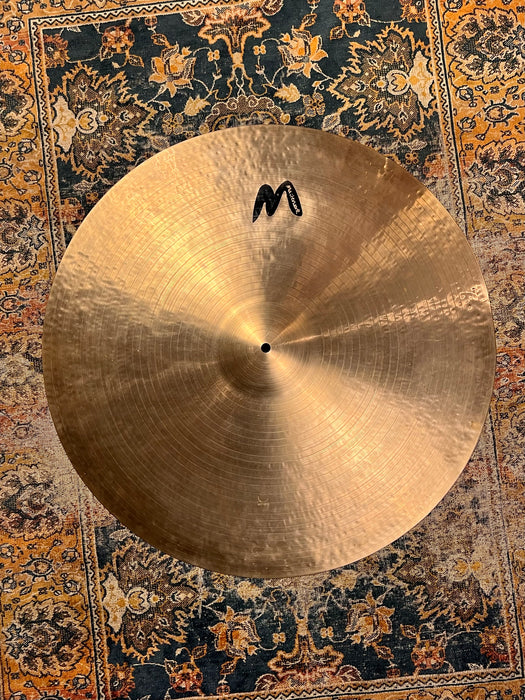 GLORIOUS GLOWING MASSIVE Masterwork Paper Thin Jazz Master Crash Ride 26" 3184 g
Original price
$369.99
-
Original price
$369.99
Imagine if you could summon a dragon with a swipe of your stick, but this time the dragon was actually friendly, he might even help you. I don't think I'm the only one who feels this way when playing this unique, massive, ultra, paper-thin, GLOWING warm, Masterwork 26" Crash Ride.


As many of you may know the Jazz Master Series is famous for a golden, lush, super warm tone - and this massive 26" exemplifies that sound!


This cymbal looks like it was pulled off a Zildjian ad from the 1940s - the ones where the huge Hand Hammered cymbals are in the background. 


3184 grams. That would be fairly thin for a 24", this is a 26".  Plays like a glorious THIN FULL! Goes from a whisper to a roar with ease! 


 When struck this thing wobbles like a manta-ray. 


When played lightly you get a beautiful, glowing, dark, light-ride tone - a very Brian Blade vibe. Slightly Complex but all the while very smooth! 


This 26" has the airy tone of rivets - even though there are none. 


This Rare 26" Jazz Master is an absolute joy to play - dark, extremely warm, mesmerizing, edge-wobble wash. At 3184 grams it has a broad dynamic range Stunning with mallets up to sticks. 


Perfect for brushwork and recording. 


You just can't find a cymbal like this out there -an amazing, unique cymbal! No issues.  Light patina. Super clean. 


A head-turning Hand Hammered piece of art.