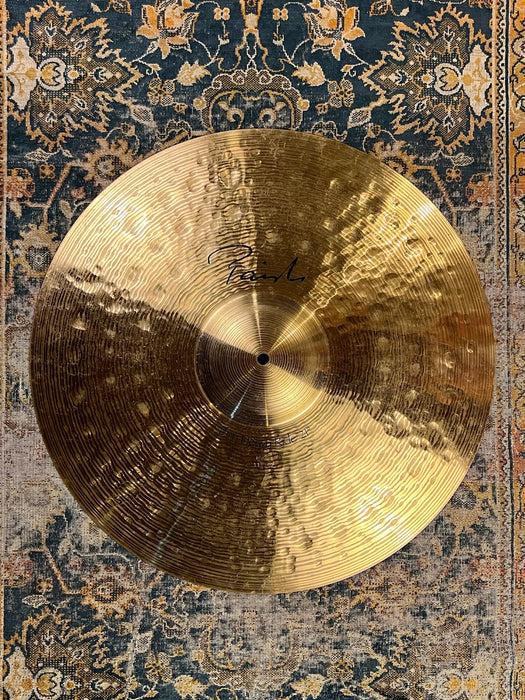 Discontinued EARLY Paiste Signature 21" DRY HEAVY Ride 3226 g Danny Carey
Original price
$379.99
-
Original price
$379.99
Ahhhh the famous PAISTE Signature DRY HEAVY Ride.  A legendary cymbal - made famous by Danny Carey (sometimes the 21" sometimes the 22") and Brad Wilk.  And this one is clean and SUPER EARLY.


It's from the first few years of production.  Maybe the first year of production. 


And you can no longer get this Signature Paiste!!  That's ridiculous!!  


Never fear!  I happen to have this shiny BRUTE right here! 


Aptly named, this massive 21" is both Dry and Heavy. And with a 6" bell as majestic as Mount Fuji, this 21" penetrates extremely well. No surprise there! 



3226 

grams ensures fantastic projection all with that inimitable CLEAN Paiste Signature tone. 


Let's take a stroll down memory lane, Paiste described this Dry Heavy as:
"A heavy version of the Dry Ride, higher-pitched and stronger overall. The bell sound is pronounced while still remaining close to the overall cymbal sound." 


And that is accurate.  And then they went and damn discontinued it! How could they!!!


A fantastic cymbal that offers supreme stick attack and is fairly dark for its weight.  Piercing bell. It's a hell of a lot of fun to play. 


This is what Paiste does best! "DIIIIING!"  That's why so many rock guys play Paiste. Clean and cutting. 


And no longer made. 



Great shape. Clean with a nice light patina. Mild use.