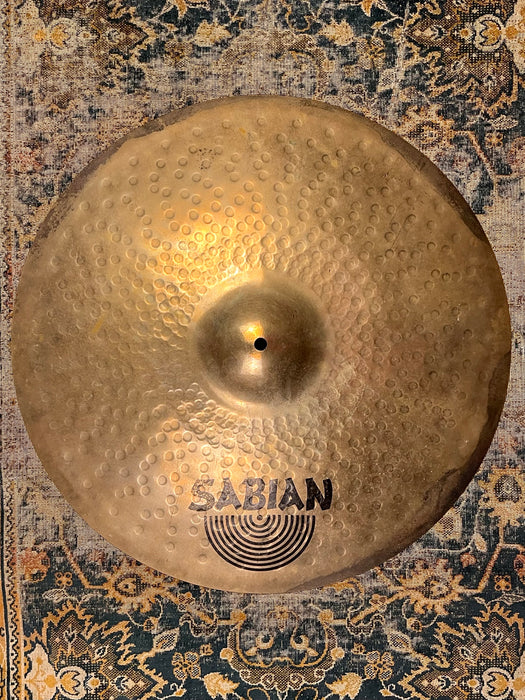 AUTOGRAPHED Sabian WILL CALHOUN LUNAR Ride 21" 3500 g RARE
Original price
$449.99
-
Original price
$449.99
SIGNED By Will Calhoun :A very rare Sabian Signature WILL CALHOUN 21" LUNAR Ride.


This was a hard to find Sabian even back when it was being produced.  Now it's damn near impossible to find - especially autographed by the man himself!


Imagine a badass K Custom 22" but HEAVIER AND DRIER!!! That is this beauty! It's ALL about attack and definition. And of course it cuts exceptionally well.


Upon close inspection we find that this Original Will Calhoun Ride is UNLATHED and RAW however it is HEAVILY HAMMERED with telltale CIRCULAR HAMMERING.


Weighing in at a healthy 3500 grams even, this WILL CALHOUN Ride plays like a great SUPER HEAVY DRY 21". The stick attack is one of the best of any Sabians I've encountered. This cymbal is DRY! And the ensuing wash is very controlled.


This is one of the heavier, DRIEST cymbals Sabian ever made. There are no harsh overtones on this 21". The bell is PIERCING. Very solid.  And this beauty projects superbly but STILL remains crisp and articulate at lower volumes.


Amazing bell. Fantastic stick definition. Crisp, penetrating focused attack. Overall DRY but not dead. Medium in pitch. Not overly bright-a nice mix of dark overtones in there. Terrific cutting ability. Larger 21" size supplies a generous playing field.


No longer made. And definitely hard to find. This one has been autographed by Will Calhoun.  



A great piece to play and collect.