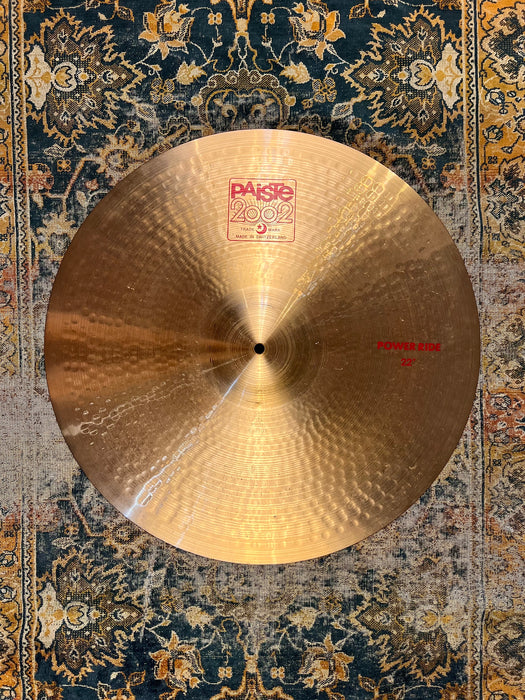 CLEAN Paiste 2002 22" POWER RIDE 3545 g Magnificent BELL
Original price
$269.99
-
Original price
$269.99
No need to spend $400 on a stock photo Paiste 2002 22" Power Ride that you can't even hear what it sounds like! 


That sucks!  And hardly anyone even has a 22" in stock.  You'll see the 20", but not the 22". 


But I'm here to help the beleaguered drummer from the suffering online stock photo buying. 


Have a listen to this exact PAISTE so you buy with confidence.  


Paiste 2002 Power Ride in the generous-sized 22" with a bell as majestic as Mt Fuji! 


Paiste describes this cymbal as:


"Bright, full, clean, energetic, strong. Fairly narrow range, fairly clean mix. Heavy response, controllable fe clean, glassy ping over a dry, dark and bell-like wash. The classic power ride sound for mainly Rock and Me applications."


It reads like Wordsworth! 


The Big 2002s are hands down my favorite of the series because they possess a slightly darker tone. This balances the series out a bit. They're still 2002s and they still cut supremely, however the larger ones just seem to be a bit more balanced/musical to me. And this 22" is no exception. Obviously it's not Paste Traditional dark, but it a hint of darkness - and that's a great thing on a 22". 


Weighing in at a robust 3545 grams, this Paste delivers a fantastic, Classic 2002 penetrating PING tone. The stick definition is beefed up beautifully, and being a Power Ride, the bell cuts supremely and projects straight to the back wall. 


The tone of the bell is separated and delivers that clean, crisp 2002 "DING." It's the tone that Paiste is famous for - cutting, clear separated bell. 


Right under the bell you get a great, fairly focused stick attack. And as you migrate out to perimeter of this 222" and start crashing, it really opens up to unleash a wall of white noise.  


No issues.  Extremely CLEAN. A beautiful 22" that cuts easily through the din of multiple guitars.  



Don't spend $400 for a search and a guess.