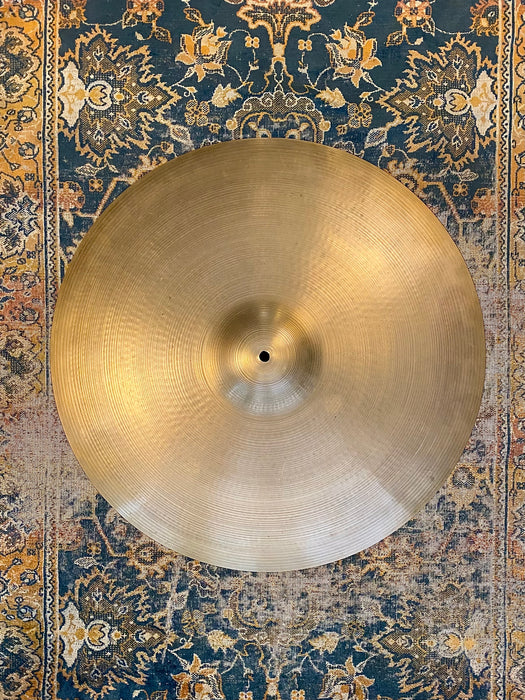 Dark DRY 1960s Vintage Zildjian 22" Ride 3732 g Fantastic
Original price
$339.99
-
Original price
$339.99
This is a hard to find cymbal - it's beautiful 1960s 22" A that's DRY sounding - much drier than most. It has a terrific half-century old patina that mellows and beefs up the stick articulation for such a big 22" A. 


I love 22s" from this era.  They're harder to find but worth the search. They're darker and smoother and lower-pitched than their smaller 20" brothers.


And that is exactly the case with this Vintage Zildjian 1960s 22". 


What's fascinating about this particular 60s 22" is that the stick articulation is strong and it's pretty dry for a cymbal from this era.


 It's like a 60s Dark Ping Ride or a K Heavy - but in a 60s A. 


The bell measures a generous 5.5" snd supplies a fantastic DING tone. Big 22" supplies a lot of playing real estate. 


3732 grams gives it plenty of meat to punch through in an amplified setting but it's much darker than any Ping Ride could hope to be. 


This is the perfect Classic Rock 60s DRIER Zildjian. 


Off course it's perfect for rock but it's darker and dry leanings make it sing in other genres. 


No issues. Light typical use. Fantastic shape for being half-century-old.  Literally. Wonderful deep patina. 


No need to spend $400 on a big box store new Zildjian. That's ridiculous. 


Play the 60-year-old 60s Original for LESS money. It's a lot more fun.