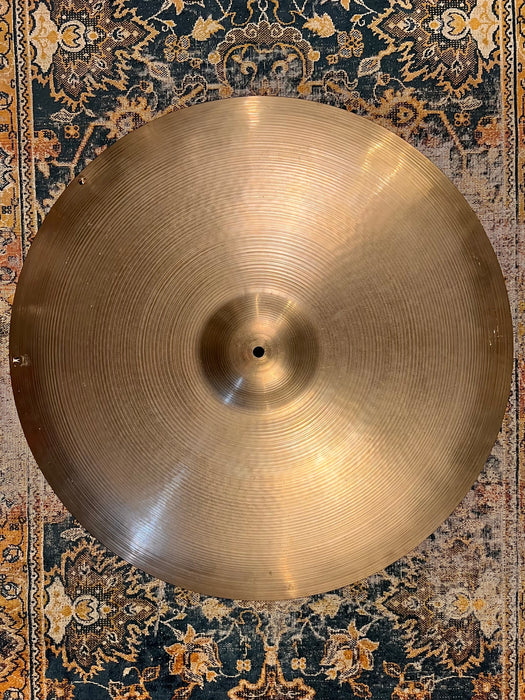 HUGE 2 FOOT VINTAGE Zildjian 1960s 24" LIGHT Ride Sizzle 3798 g Shimmering
Original price
$399.99
-
Original price
$399.99
This 50-year-old 24" is an absolute blast to play!!


It's like a K Light 24", but 60 years old! It really has a light complexity that is surprising.  
This Zildjian inhabits that estuary where Classic Rock drummers like Mitch Mitchell and Ginger Baker were playing beautiful JAZZ cymbals because that's who their heroes were. 


This right here is the vibe.  It's a 24" that is lively with a percolating complexity and could easily be a Main Ride for jazz or Big Band.  But it sounds so damn good in Rock!! 


Great shimmering wash, generous playing field.  Majestic bell! 


You can get different tones depending on where you play it. The bell is solid and piercing and has no problem projecting off stage. As you migrate down to the plain you get a Sweet and SHIMMERING attack and definition that is so familiar to the ears. And when you pull all the way back to that edge it unleashes a WALL of white noise thunderous CRASH RIDE. I mean MASSIVE! 


Again, being an over half-century-old Zildjian A, this 24" does make great jazz or Big Band Ride too. It's fairly bright but mellowed out over the last 50 years.  It has that classic A tone but being the rare 24" is a bit darker and lower-pitched than a 20" or even 22" and can easily be a soulful jazz ride. Although it keeps plenty of brightness and lightness in there. 


And it has great light and glassy shimmer when played delicately.  Chime-like with a mellowed stick attack. 


2 rivets give it a very subtle 1960s Sizzle. 


It's no surprise this 24" covers a lot of bases - it's a 50-year-old Zildjian A!!  All those great rocks, soul, and jazz albums were done on Vintage Zildjian As.



3798

 

grams. Golden patina.  No issues. The Real Deal.


A glorious cymbal to explore.