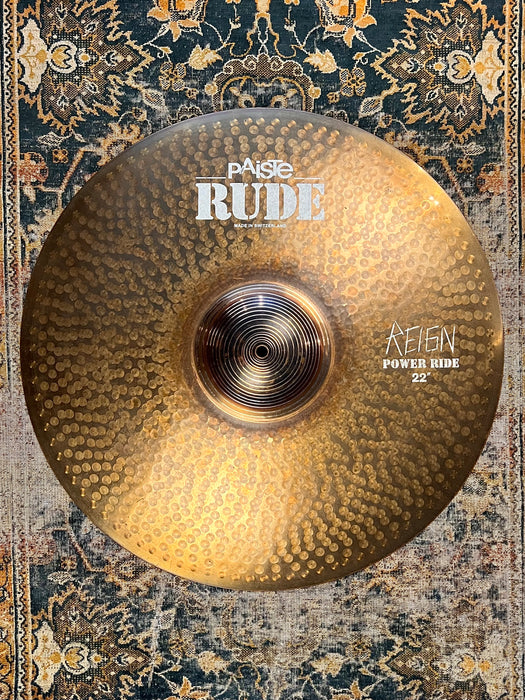 Paiste DAVE LOMBARDO RUDE REIGN 22" POWER RIDE 3818 g DARK HUGE BELL
Original price
$339.99
-
Original price
$339.99
No need to go full pop $$$$ deep on a stock photo guess at a new Paiste Rude. 


Check out this gorgeous 22" RUDE REIGN in great shape! The harder to find 22" Dave Lombardo Signature model! Not many people actually have this in stock - not just a drop and ship.  


And you can actually listen to this exact cymbal - so you can buy with confidence. 
Look at the pics! Beautiful. Golden bronze coloring on this Rude. 


The weight is a healthy 3818 grams.  And check out THE BELL! That's not your standard RUDE! 


Alternating raw/gold lathing down the bell! No other Paiste has that bell! 


As many of you know, Paiste created the RUDE series in 1980/81 to quench the thirst of rock and punk players (although there were a few jazz enthusiasts who used them too.) The unlathed and heavily hammered Rudes offered an unprecedented explosive cut and sustain that held up both sonically and structurally in loud volume settings. The Rude series went through many logo changes but always kept its magnificent BELL, unlathed surface, and talent for explosive attack and maximum projection.


And this beautiful Signature 22" REIGN POWER RIDE is no exception. The attack is fantastic - when crashed upon it is FULL and semi-dark but not as clean as a standard 2002. It's definitely more Raw in both appearance and sound. More complex. More organic. And much lower pitched. The bell sounds like a Stewart Copland bell.


Piercing. One of the best bells Paiste ever made. 


Fantastic projection - yet still dark!! Great for loud to louder to loudest.


No issues.  Fantastic condition. Light use with a light patina just starting to build.


Not many of these out there that you can hear first!