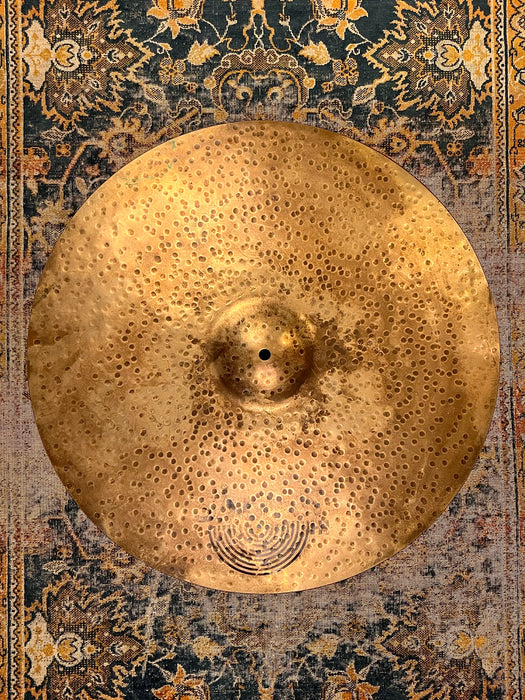 RARE LOW Dry Dark Vintage Sabian HH Leopard Ride 22" 3952 Gs Hand Hammered
Original price
$369.99
-
Original price
$369.99
One of the FIRST HHs ever made! And definitely one of the 1st Leopard Rides! Super rare Hollow Logo version.


This is one of the LOWEST pitched 22s" I've heard.  It's like the 80s K Custom 22" but now Hand Hammer it and bend the pitch down an octave!


There's really nothing else like this out there:
One of my favorite cymbals that Sabian ever produced, they're very hard to find today actually out in the wild - if you do find a newer one, it ain't going to be cheap. Nor will it be as low pitched and dark as this 40 year aged hand-hammered, raw, unlathed, beauty!


And this is the damn near impossible to find 22"! 


Much, much darker and lower pitched than the K Custom Ride and actually Hand Hammered.  
Weighing in at a robust 3952

 

grams, this earlier Leopard packs the penetrating dry, punch that cleaves through a mix. 


Check out the close-ups - famous EARLY 80s HH ball-peen-styled hammering. This ultra-dry massive 22" can go from lower-volume settings to loud settings with ease. 


Low profile, very low pitch. Very dark overtones, could easily pass as a 24". 


Obviously, the bell is piercing and separated.


Whether it's a Dark Jack Dejohnette Ultra-Dry style Ride for jazz, or you need something cutting for rock but you don't want overly bright and harsh, this darker, earlier HH Leopard will serve you well. 


No issues. Amazingly aged over 40 years. A beautiful looking and sounding instrument and a testament to Sabian's innovation in their early years that they've maintained throughout the decades.