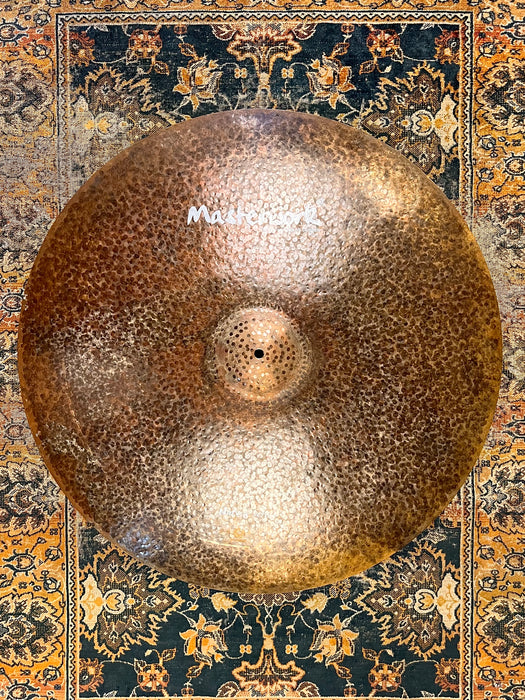 28" of BLISS! MASSIVE RARE MASTERWORK PROTOTYPE 28" TURK Ride 4174 g
Original price
$499.99
-
Original price
$499.99
Well, this just makes me happy! 


A truly Hand Hammered 28"! And it's a one-off PROTOTYPE.  
And this can easily be your main ride cymbal. 


This is reminiscent of those HUGE Zildjians you would see in the background of a 1940s or 1950s Zildjian ad with Papa Joe Jones.  Just a massive wavy hand-hammered cymbal lying against the wall and you're like "what the hell is that?!!" 


Well, this rare 28" celebrates that era and vibe! 


It's even LOOKS 80 years old with its Vintage copper sienna Raw Hand Hammered craftsmanship. 


Ultra Rare HUGE Masterwork 28" Prototype TURK Natural Ride in Immaculate shape! 


Unique.



As you can see, this stunning 28" has a beautifully Hand Hammered raw bell feeding into a raw, unlathed massive plain that fans all the way out to the edge. 




The result is a cymbal that has all the wonderful light and complex tone of a truly Hand Hammered cymbal with the focus and drier attack of a raw, unlathed cymbal. 



With a weight of 4174 grams, this MASSIVE 28" Masterwork Proto plays like a great, dry semi- complex-sounding Medium Thin to Medium Light 

Ride or CRASH RIDE. The weight gives it a good attack while the Old-World Turkish craftsmanship lends its telltale complexity to the mix. 


Remarkably responsive at low to medium level volumes!   Crash on it and it ROARS like the levee just broke - more than capable in loud to very loud settings. 


Organic but still with a glow. Subtle but lively, responsive with a smooth complexity.


The 28" size supplies myriad options for drawing tone out of this instrument.  It's like playing a grand piano! 


A gorgeous Main Ride or massive Crash Ride. 


MESMERIZING to watch wobble and float about. 


This is a unique instrument! It's a calling card. It can easily be your main ride or roaring crash! Or make it sizzle for that 1940s vibe! 


Whatever you decide, it's an absolute JOY to play and make music with and have fun with.  


Nothing like it at all. No issues. Immaculate shape! Gorgeous dark sienna COPPER HUE.