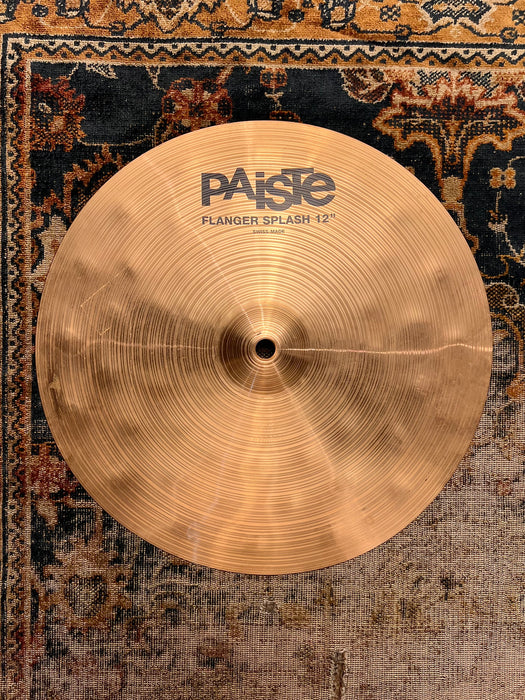 ULTRA Rare Paiste FLANGER SPLASH 12" 431 g SUPER BENDABLE Clean EFFECTS
Original price
$229.99
-
Original price
$229.99
Here's a damn-near-impossible to find Paiste! And it's one of the coolest cymbals they ever produced. 


It's long been discontinued and it's a shame because there's nothing like it. The edges are super bendable and it has a very, very soft tension. 


It's like a Mini Bell Splash Effects.  If some of you remember the Flanger Ride this is the same thing but in a Splash Crash 


Ultra Dark with a very low pitch and a unique complexity to it.  


Paiste describes this Exotic Percussion as:
"The Flanger Splash takes the effect cymbal to another level. When struck, one hears a weird and sparkling, splashy sound with a modulating, flanging quality. With a short sustain, this cymbal features a "loose", dark, airy sound.
Dark, full, low-pitched, slightly raw. Wide range, very complex mix. Soft, buttery, extremely responsive feel. Explosive, sparkling, slightly shattering attack, trashy, mellow, breathy fade. Overall sound is characterized by modulating and flanging over- and undertones. Also very well suited for hand and mallet playing."
There you go!!  Like a Wordsworth poem!  


At only 431 grams indeed this Paiste is Paperthin and has a looseness to it.  It's extremely dark and complex and plays like nothing else in the catalog back then nor since. 


Perfect for very soft to medium loud.  Gorgeous for recording. A standout cymbal in the studio.  


Perfect as an effect stacked too. 


No issues. Very clean especially for being 20 years old. Light patina building up.  


Gorgeous. 


I hardly ever find these. Strong logos. A beauty!