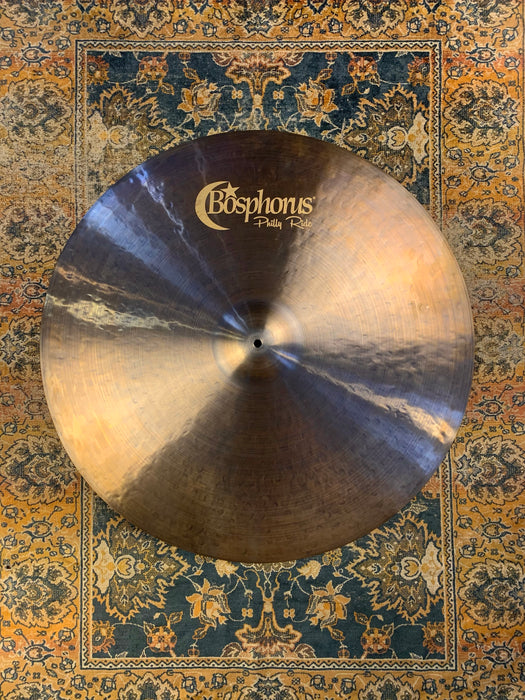 1-of-1 Bosphorus 28" PHILLY RIDE Crash Ride 4376 g IMMACULATE
Original price
$549.99
-
Original price
$549.99
Well this is an amazing day: 


A Hand Made 28" Bosphorus PHILLY RIDE in Immaculate Condition.  1 of 1! 


And this can easily be your main ride cymbal. It's so fun snd easy to play. It's inspiring!  


Have a listen! 


This is reminiscent of those HUGE Zildjians you would see in the background of a 1940s or 1950s - just a massive wavy hand-hammered cymbal lying against the wall and you're like "what the hell is that?!!" 


Well, this rare 28" celebrates that era and vibe! 


Glassy Pre-Aged blue hue gives it light, semi-dry attack with a bit of dryness followed by a papery wash which is absolutely insane on a 28" - so beautiful it can easily be your main ride. 


Billowing lush and complex crash that retains a delicate shimmer. 


4376 grams - and it retains this light glassiness that you don't normally hear on such an enormous cymbal. 


Remarkably responsive at low to medium level volumes!   Crash on it and it ROARS like the levee just broke - more than capable in loud to very loud settings. 



The 28" size gives supplies myriad options for drawing tone out of this instrument.  It's like playing a grand piano! 
This is a unique instrument! It's a calling card. It can easily be your main ride or roaring crash! Or make it sizzle for that 1940s vibe! 


Whatever you decide, it's an absolute JOY to play and make music with and have fun with.  


Nothing like it at all.


So beautiful and fun it's hard to stop playing it.