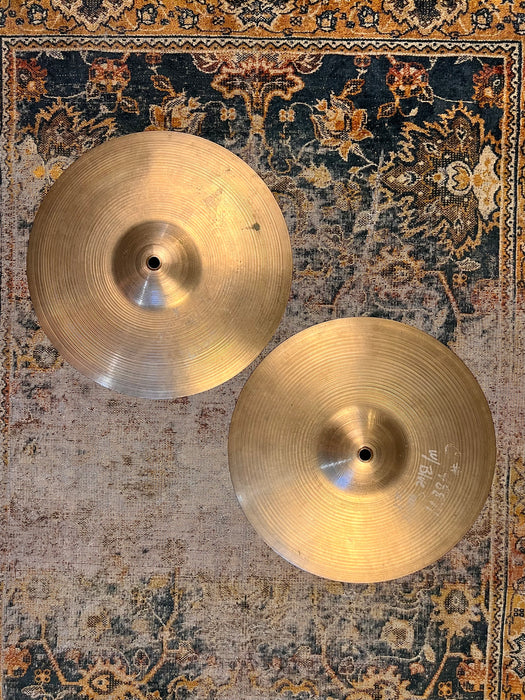 RARE 1950s Vintage ZILDJIAN Paperthin 12" Hihats 496 522 g CLEAN Hand Hammered
Original price
$399.99
-
Original price
$399.99
Here is a pair of ultra-thin 70 year Vintage Zildjians that sound like they were just plucked off an Early DUKE ELLINGTON Record.  Or Maybe Bix Beiderbeck. Or ART Tatum!


These beauties are literally from the first few decades of ZILDJIAN IN AMERICA.  


Vintage Zildjian Hand Hammered 1950s Paper Thin 12" Hihats in fantastic shape!



496 and 522 

grams  - that is really damn thin and a beautiful thing when you need a light whispy papery vintage tone - none of this modern stuff masquerading as "vintage" or "vintage reissue" nonsense. 


Hand hammered, wavy surface, ultra-thin weights - Gene Krupa vibe- FOR REAL. 
Light Papery whispy, very responsive, wonderfully DRY complex tone with a subtle lively glow that percolates when opened.  Dry attack. Very mellow chill - compliments of the last 70 years that have been quite good to them. 


Beautiful light and FAST CHUP tone when played with your foot. Golden glow when opened.  Splashy and whispy. Not like anything modern. 


Being the original 1950s 12s" these Hihats are FAST with a very quick response - both with your foot and a stick.  They are PERFECT for getting that super old-school sound. 


They sound unbelievable under a mic and are fantastic for low to medium volume settings. 
Incredible for brush work.  


No modern company makes this sound. This is THE SOUND. 


It's a joy to play cymbals that are 70 years old. No issues, great shape, typical light wear, gorgeous patina.


The sound of early jazz, bebop, folk, Americana, Big Band, rockabilly, boogie woogie, and Dixieland right here.


Very hard to find a beautiful pair like this today. The Real Deal!