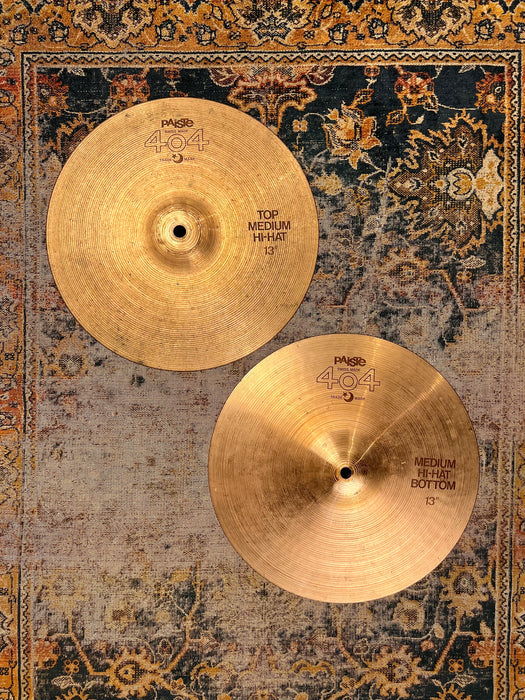 RARE VINTAGE Paiste 13" 404 ULTRA PAPER THIN Hihats 517 640 g YES 13s"!!
Original price
$259.99
-
Original price
$259.99
Here's a pretty hard-to-find pair of 40 year Vintage Paiste Black Label Paper Thin Hi Hats.


And these are the THIRTEENS!  I have never seen the 13s" before. I'm not even sure they were available in the US. 


These are some of the thinnest hihats Paiste ever made. 


The 404s replaced the Original Giant Beats - but they're even thinner - if you can imagine that. 


Hard to Find Paiste 404 Paiste 13" Medium Hi Hats. 


And they're ULTRA PAPER THIN! Some of the thinnest Paiste hi hats you will ever see! 


According to Toomas Paiste, Paiste discontinued the 404s because they were "too good."  


A stunning 517 and 640 grams. I mean that's ultra paper thin! 


Light, airy, whispy, delicately complex, incredibly responsive.


Imagine if Paiste made paper-thin 1940s Trans Stamp Hi Hats out of the 2002 alloy - this would be them.


And these being the extremely rare 13s", they're quicker and faster playing than the 14" models.  


Overall clean for being 40 years  old.  They really do play like 1940s or 50s Zildjians. 


Very low to medium volume, incredible with brushes, sing with a light touch. Amazing for recording. Total Aaron Sterling or Steve Jordan very musical vibe.


Excellent condition. No cracks. A few typical dents around the edges and bell - like almost all 404s - because they're so thin. 



Absolutely amazing for recording and low to medium volumes, and a lot of fun to play. Very soulful. Very rare!