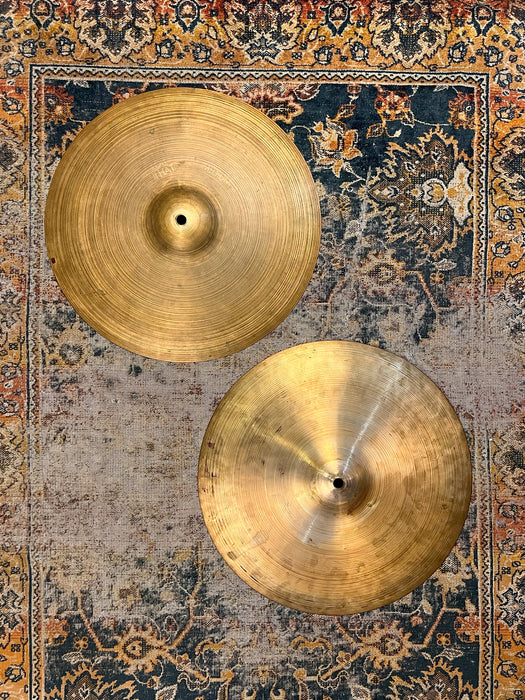 PAPER THIN Complex 1960s Vintage Zildjian 14" Hihats 822 920 g LIGHT
Original price
$449.99
-
Original price
$449.99
Here's a sound that's ever-present in our minds:


Paper THIN Vintage 1960s Hand Hammered Zildjian Hi Hats with that famous airy, complex tone. 


Sound like an early Beatles recording. That's the tone. 


Someone showed these beauties some love at the ol' factory! Gorgeous old school 60s lathing and hand hammering. And then Father Time showed them love.  The patina on these is gorgeous.  


Factory stamped "Medium" - but very far from medium at these weights.  These are THIN.  


For whatever reason cymbal companies have not been able to capture the tone of these half-century-old original Zildjians….although they keep trying to, but Zildjian ain't hand-hammering these days - far from it. 


But they keep charging $550 for their attempts.


Fortunately, no one needs to try to "re-create" a damn thing! This pair of 1960s Hand Hammered Thin 14s" just IS! 


Just create!


822 and 920 

grams. Wonderfully THIN and complex. This pair has a bit more light and lively airy complexity than most.  


Tight, focused, and MOTOWN crisp when closed, perfect RINGO SLOSH when opened. Sturdy Jazz-style CHUP when played with your foot.


These are the hats that launched 100000 recordings - in all different genres too! 


No issues. Light use with a glorious half-century-old patina that mellows them beautifully. 


Vintage 1960s Zildjian Hi Hats with an inimitable light complexity. 


THE SOUND!