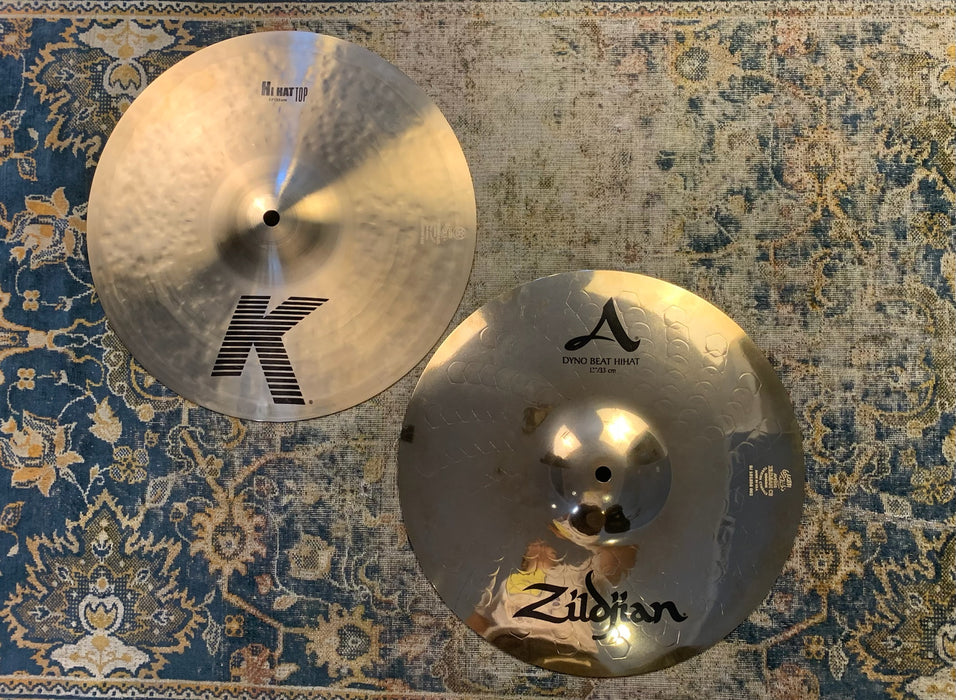 IMMACULATE Zildjian K/Z COMBO 13" Hihats 824 1508 g DARK CRISP in BAG
Original price
$349.99
-
Original price
$349.99
Don't pay $430 for a stock photo and a guess!  


And according to the Zildjian website, these hihats aren't even in stock!!!  If you can find them you probably can HEAR them! 


But fear not!!  Listen to this exact pair and buy with confidence. And they're as fresh as tomorrow. In the bag perfect. 


The famous Zildjian K/Z Combo 13" Hihats. And they're perfect. Only played for the video. 
Vinnie, Dennis Chambers, Dave Weckl, Steve Smith. They all played these K/Zs on those famous recordings! 


Zildjian describes these hihats as:
"K HiHat top with Z Dyno Beat HiHat bottom. Dry, musical stick sound. Bright, sharply defined "chick." 13" highly recommended." 


These K/Z Combo hihats are ingenious. The heavy, unlathed Original Hex Z Dyno Beat Bottom provides a monstrous CHICK. And the thinner, darker, more mellow K Top provides a warmer tone that makes a great counterpart to the bright, heavy Z. 


The result is a pair of semi-bright, super cutting hihats that are wonderfully versatile. They project extremely well and still maintain the CRISP tone of 13s".  


824 and 1508 grams.   


So clean they almost have an ounce of Paiste in them. 


VERY CRISP. NOT HARSH, still project a nice great K warmth. Articulate. Amazing CHICK tone. They still breathe at lower/medium volumes. 


A perfect blend of Semi-dry attack with that famous K warmth. 


Immaculate. Only played for the video.  That's it!