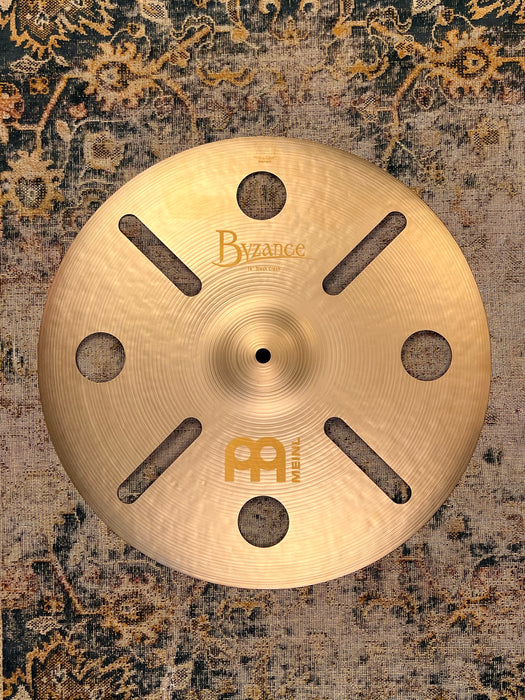 PAPERTHIN Hand Hammered Meinl BYZANCE TRASH Crash 16" 828 g PERFECT
Original price
$229.99
-
Original price
$229.99
No need to spend $360 on a 16" Byzance!  And then guess at what it sounds like.


Yes $360!  That's insane.


But if you like that quick trashy crash sound, this does sound amazing!


And fortunately this one is in perfect condition and you can hear how beautiful it is. No need to spend more on a guess.


Meinl Byzance TRASH CRASH 16" in IMMACULATE Condition.


Factory holes on this Trash Crash.


Weighing in at a PAPERTHIN 828 grams, this Byzance plays like a PAPERTHIN Complex Crash.


The tone is exceptionally trashy, VERY dark, and complex. What I specifically dig about this 16" is that it has all the dark leanings of Meinl's Hand Hammered Series, however, despite being paperthin the projection is fantastic. It's cuts but doesn't clank!


The wash is strong & complex, the spread on this 16" is TERRIFIC!! BUT (and this is what I really dig,) the tone is not nearly as harsh or bright as a modern Crash. The overtones are more pleasing, and it's not grating or annoyingly high-pitched.  It has a mellower tone.


Being the 16" it opens quickly and has a fast decay.  


Amazing for punches and accents.  Can be a straight up complex crash or makes a beautiful effects or stacker.  


Perfect for soft to loud music. Great dynamic range.



Immaculate condition and only played for the video. And NOT $360 for a stock photo guess!