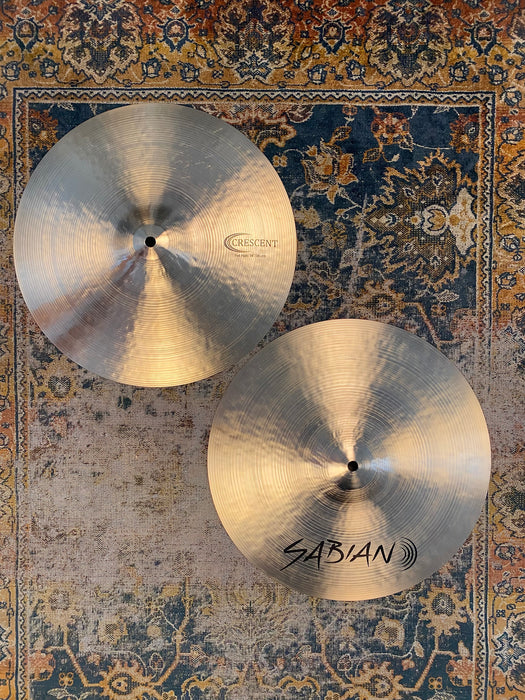 DRY Sabian Stanton Moore Crescent FAT HIHATS 14" 830 1148 Gs NOS
Original price
$399.99
-
Original price
$399.99
The pre-cursor to the Artsian Elite Series. 


This is a fascinating set of hihats: what began as a Bosphorus, then became Crescent, then became Sabian Crescent, and now, of course, Stanton Moore plays Zildjian - which leaves these Fat Hats in a bizarre purgatory.


The funny thing is that these are some of Sabian's nicest hihats and should not be lost just because the marketing was. 


Look at the underside - they're Sabian ARTISAN ELITES. But these existed BEFORE those - here's where Sabian got the idea. Same weights too! 


What I love about these particular 14" Fat Hats is that for lathed hihats they offer a controlled and dry attack. For all of those drummers out there bitching about, "I need better stick attack but I still want warmth, these Sabian Crescent FAT Hats might be your Dark Horse turned Pegasus.


Weighing in at a thin 830 and 1148 grams, this particular pair of 14s" plays like thinner, dark, semi-dry hats. The 1191 gram bottom ensures a solid chick tone when played with your foot. But the thin 830 top keeps them extremely responsive with a hint of smokiness.
Focused and controlled without sounding dead or clanky. They have a delicate softness to them.


Still have Stanton Moore Signature under the bell crystal clear. 


Immaculate condition. Extremely hard to actually find in the flesh - not a "special order" stock photo. 


Cost well over $500 new.  But not today….