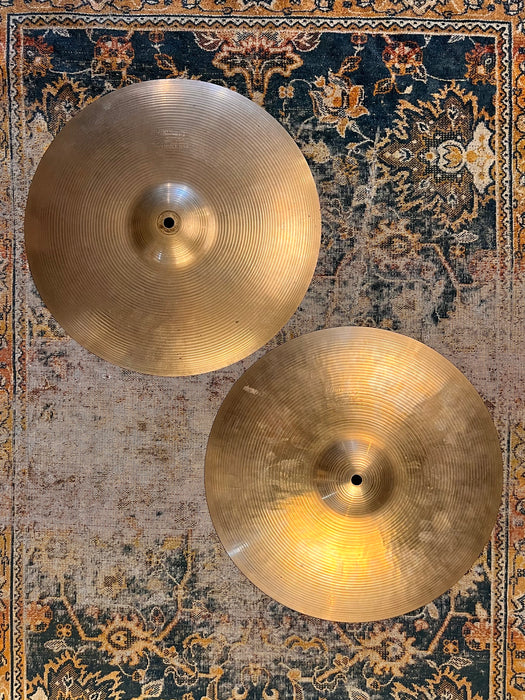 LIGHT COMPLEX VINTAGE Paiste 602 Hihats 14" 837 922 g WHISPY Clean
Original price
$399.99
-
Original price
$399.99
The good Lord did not put Vintage half-century-old Paistes on this Earth so that you could spend $570 on a pair of new ones. Stock photo guesses from a big box store. 


I'm serious.


I'm so serious that the sentence "I'm serious" got its own bullet point.


That is absolutely preposterous on a "Reissue" when you can have the real deal ORIGINALS for a lot less money. 


This is the sound that put Paiste on the map in the 1960s, not the reissues….this. This is the sound that you've heard on all those famous recordings in the last 60 years. 


And they're pretty damn clean for over half-a-century old! That's remarkable when you think about it. 


And if you have a studio or record a lot, grab these! These are amazing under a mic. Light. Complex. Whispy. Airy. 


This particular pair has fantastic gram weights: 837 & 922.  Which makes them very thin by modern standards. 


This pair has aged and mellowed beautifully and the years gives them a soft, played-in mellow complexity. 


The Re-issues sound nothing like this. 


Of course, these 14s have that wonderful splashy 602 tone when opened. The CHICK is prominent as well, compliments of the thin-to-medium-thin weight. 


Extremely responsive.  Perfect for low to medium loud settings.  Amazing golden patina that you just can't factory "pre age". This is just 50 years Aged. 


Light typical use.  


The SOUND.