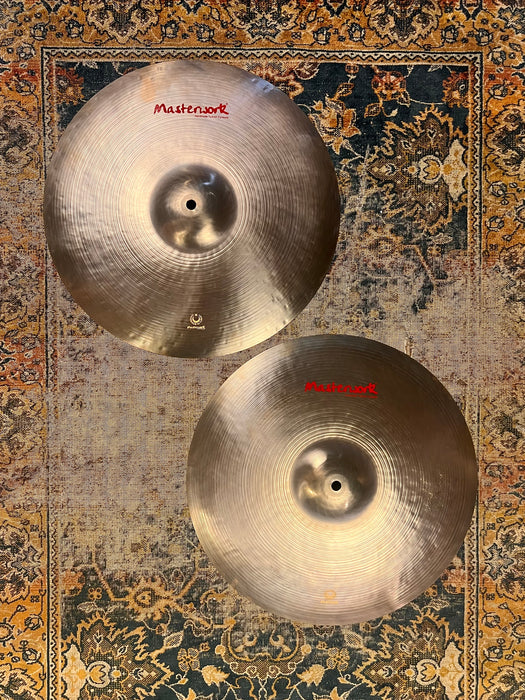 MASSIVE 16" ULTRA LIGHT COMPLEX Pre Aged Masterwork Hihats 872 968 g PERFECT
Original price
$299.99
-
Original price
$299.99
THESE are the K Light Hats you wished Zildjian made! Why??


Because they're actually LIGHT!  Actually like ULTRA LIGHT! Like 400 grams lighter than the paradoxically named Zildjian "Light Hihats."


Some of the thinnest hihats you will ever find. Literally. 


And these glorious 16s" actually are Hand Hammered! Imagine that!  
These Pre Aged brushed, blue hue Masterwork 16s" are damn nearly impossible to find and they're FANTASTIC sounding Hand Hammered, Hand Crafted Oxygen Hihats with a light and complex tone. 


WHISPY, AIRY, LIGHT, AND THIN. I mean Super Thin.  


How thin?  872 and 968 grams THIN - that's like the 1940s Zildjian thin….and that's the vibe. 


You can even straight up open them up and crash on them! Like straight up crash!



Dig the craftsmanship of these massive beauties.

 

They actually have that Vintage Istanbul K style lathing and sport a beautiful, Pre-Aged brushed blue hue finish that controls and dries them out just a hit.  


As many of you may know, Masterwork cymbals are renown because they represent some of the NICEST sounding Hand Hammered cymbals produced.


They have a luscious organic, warm and complex semi-dry vibe that just glows from behind the kit-beautiful Old World Turkish Style THINS with a light, subtle glow.  


And all with the deep tone and generous playing field of 16s"! 


Very Vintage vibe with a pinch of liveliness. Extremely responsive.  Solid chick tone that captures that vintage sound. 


Open them for a gorgeous dark sloshy RINGO vibe. 



Amazing for very low to medium loud setting and definitely recording.  
Immaculate.  No issues.  Unique, gorgeous 16s" and a sonic steal at this price!