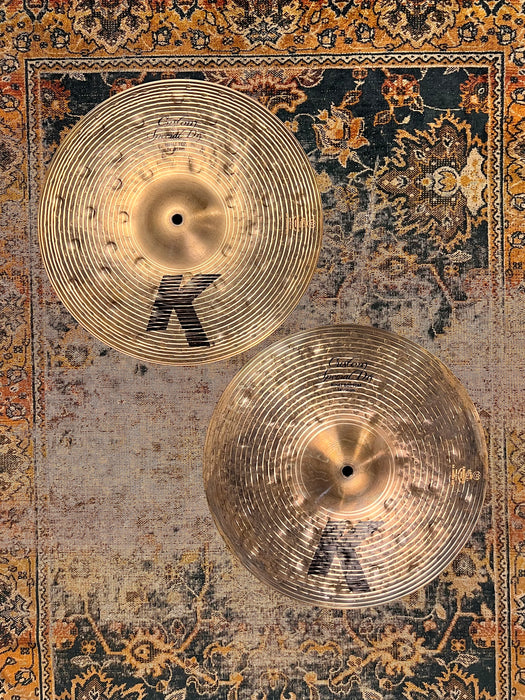 IN BAG MINT DRY Dark Zildjian K Custom SPECIAL DRY Hihats 14" 888 1340 g
Original price
$449.99
-
Original price
$449.99
Don't spend $570 on a big box store guess K Custom!  Who the hell knows what they will sound like.


Have a listen to this exact pair do you can buy with confidence!
Absolutely IMMACULATE condition with bag Zildjian K Custom Special Dry Hihats. 


Only played for the video. That's it. And you can actually hear them! No guessing at a stock photo. 


This pair Is DRY sounding with a very light and controlled complexity. They have a dark, medium low pitched tone.  This pair could even pass as 15s".  


That 888 gram Top cymbal is THIN. 


The profile on the top Hihats is very low and flat giving this pair an exceptional darkness. 


888 and 1340 grams gives them a very even and balanced weight with a New Beat terrific CHICK philosophy.  That thin top gives them great response.  


These are actually some of the thinner pairs I've seen. 


Super deep Special Dry hammering. Alternate raw/gold wide lathing. 


Zildjian describes these Hihats as:
"

Dry, articulate hihat sound with cutting stick definition and plenty of dirt. 

K Custom Special Dry are the original dry cymbal remastered for today's modern musical styles. These raw and earthy cymbals deliver a dry, funky sound with a quick attack, lots of dirt, yet shuts down quickly for a powerful expression of personality." 


There you go!!  


Dark. Dry.  Earthy and organic. Great articulation.  Sound big enough to be larger sized.  Thin enough to be very responsive.  Solid enough to cut from low to loud settings.  


Absolutely perfect and in the bag!  No issues.  Only played for the video. 


Not $570 for a guess. No where even close!  Listen and save your money.