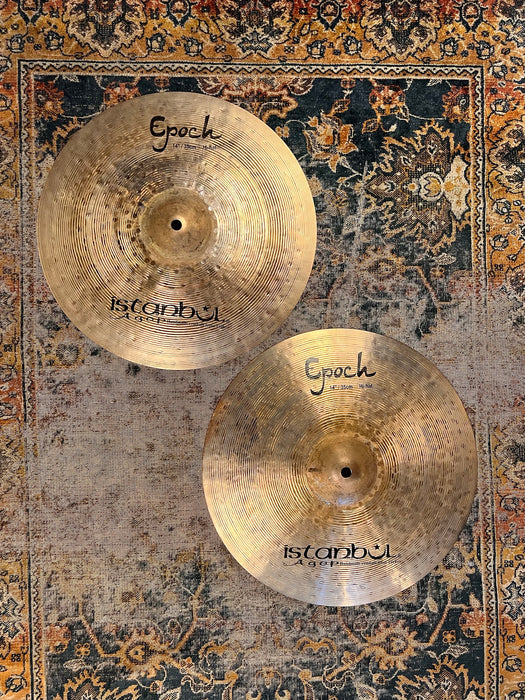 PERFECT THIN ISTANBUL AGOP EPOCH 14" Hihats 898 1042 g Lenny White
Original price
$399.99
-
Original price
$399.99
You don't see many of these outside a stock photo.


Drop n ship.  But screw that!!  


But this pair you can actually hear!  And they are in my hand right now.  


And that too cymbal is THIN - the THINNEST Epoch Hihat I've seen. 


And they indeed have a dry complexity to them - very vintage sounding but with more bite! Perfect threading the needle of Old World and modern. 


Amazing condition Istanbul AGOP EPOCH Lenny White Signature 14" Hihats.


Beautifully hand-hammered craftsmanship on these  14s". 


Raw bell leading into a very heavily hand-hammered plain - they look to be the cousin of the Agop SE Jazz series, but they're a pinch more complex with a better attack. 


ONLY 898 grams for the Top while the 1042 gram Bottom offers a terrific focused CHICK. 


They have a tight, controlled attack when played with a stick.  Opened them up for a burst of complexity - but there's still that inimitable AGOP dryness in there. 
It's that classic AGOP dry, organic mixture with that famous Istanbul complexity that turned the cymbal world on its head.


Being the Lenny White Signature Hihats, the attack is strong and it projects quite well - especially for an AGOP. And that makes sense because Lenny does indeed play amplified music.


Open as respond quickly, cutting attack without clanking.  


Terrific all-around semi-dry Hihats with a tight attack followed by a light complexity that decays quickly.


Great in low to loud settings.


Perfect shape.  No issues.  Harder to actually find in the flesh.


And you can hear them so that you can buy with confidence!