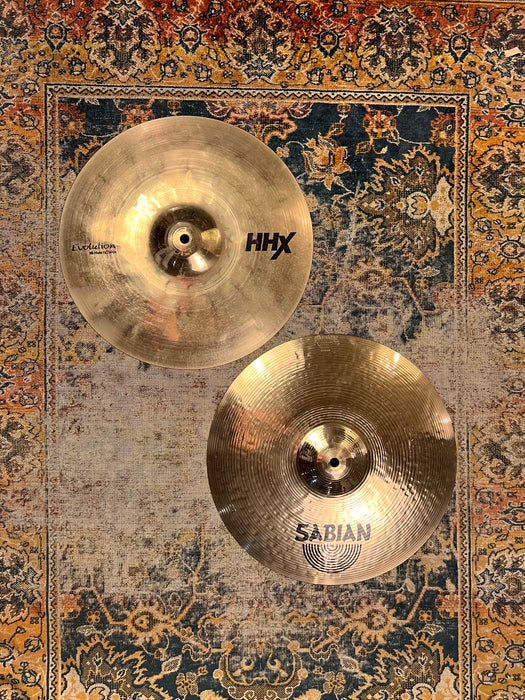 Versatile Crisp Clean Sabian HHX EVOLUTION 14" Hihats 939 1424 g WECKL
Original price
$299.99
-
Original price
$299.99
$600.  That's not a typo.  That is how much these HHX Hihats cost new. But you don't have to pay anything close to that! And you need not sacrifice tone. 


These are some of the most expensive hihats in any catalog.  And with good reason too. These HHX Evolutions are remarkably versatile. They're Sabian's top of the line series. 


It's like you smashed every hihat up into scrambled eggs and this is the taste. 


Clean. Semi-dark but with a subtle brightness mixed in. Hand hammered light complexity but overall great tight and focused attack.  Medium pitched with both high and lows present. Open them for a shimmering accent. Fantastic CHICK tone. 


They're amazing Hihats that do it all. 


Sabian describes these hihats as:
"Bright and crisp pairing with open-sound top and tight, heavy bottom for boosted Tone Projection."  


And that is accurate! This particular pair VERY CRISP sounding, with a hint of darkness and a bit of complexity.


With a lighter weight of 939 grams for the Top Cymbal and 1424 grams for the Bottom cymbal, these Sabians capitalize on the classic New Beat Thin Top/Heavy Bottom philosophy. As a matter of fact, these Evolutions remind me a bit of early Zildjian New Beat Hihats. Except as you can see, these HHXs are much more heavily hand hammered than the New Beats and have a slightly more COMPLEX tone, classic HHX tone. And Brilliant Finish too for a little darker shimmer!  


This pair cuts quite well for medium dark sounding hihats. The tone of these Evolutions is not too bright, and not too dark. The thinner top cymbal yields a responsive, semi-dark tone - not too bright and not too dark) while the heavier bottom cymbal lends plenty of CHICK and projection to the pair.



These HHX 14s are like 

DARKER, more musical and complex New Beats with the shimmer of a Brilliant Finish! 


Perfect from soft to loud. They can do it all.  Record magnificently. 


No issues. Light use.  Light patina. And they're not $600 for a guess. 



You can hear them and hear how great they sound. A killer deal for Hihats that will do it all.