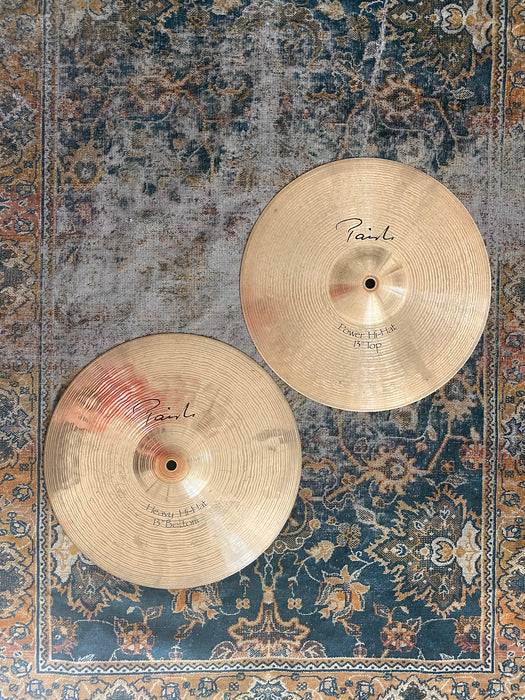 PAISTE SIGNATURE 13" HEAVY POWER Hihats 942 1058 g ULTRA CRISP
Original price
$299.99
-
Original price
$299.99
CRISP, CLEAN, CUTTING, ARTICULATE. 


And the Power AND Heavy 13s" are no longer made! 


I know, I know!  


Curse you Paiste!!   


14s" are lovely but they don't supply the UBER CRISP super fast response that 13s" do! 


Fortunately I got your back! 


I happen to have this exceptionally crisp and cutting sounding pair of Paiste Signature 13" Power Heavy Combo Hihats that are in Excellent condition. 


Signature Power 13" Top over a Signature Heavy 13" Bottom for an ultra cutting and clean, bright Paiste tone. 


These beauties are both from the very early 90s and have been a set for damn near 30 years. 


Paiste described their Heavy Signatures as:
 "Bright, full, brilliant. Wide range, balanced, clean mix. Slightly heavy feel. Clear, full open sound. Cutting, precise chick sound. Good for heavier playing." 


Now imagine that in 13s"! With a slightly HEAVIER Power Top. 


Higher pitched.  Faster. More articulate than the 14s". Much quicker response both sonically and in feel! 


Super tight when closed. Raucous opened!  


Superb cutting ability.  Classic Paiste Signature CLEAN tone but even CLEANER.


942 and

 

1038 

grams.  


No issues. Clean for 30 years old.  Light wear with a nice patina.