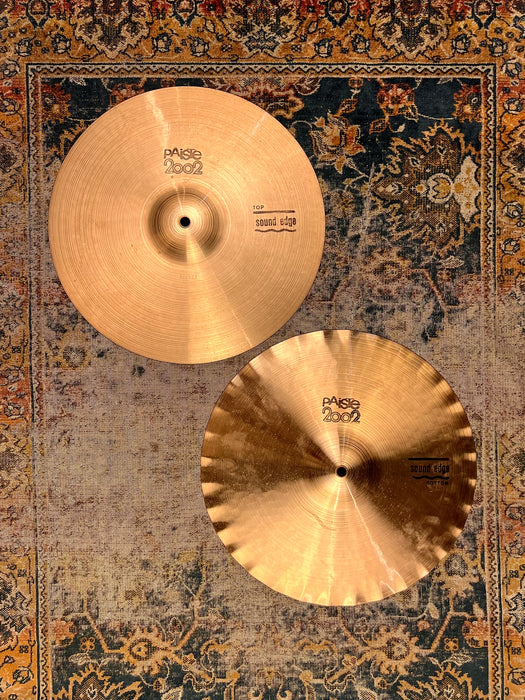 IMMACULATE 1978 REAL DEAL VINTAGE PAISTE 2002 SOUND EDGE Hihats 14" 978 1056 g
Original price
$439.99
-
Original price
$439.99
Here's a tone that's instantly recognizable!  And these are the CLEANEST ONES I have seen. They look like they're about a year old! Literally. 


Damn near impossible to find a set or 70s Sound Edges this clean! 


Vintage Paiste BLACK LABEL 2002 SOUND EDGE Hi Hats from the 8th year of production. 


1978


Damn nearly 50 years old!!  


Hurray!!!! These are the real ones, the ones that made Paiste famous. No need to get the big box store new ones for more! This is it! 


Absolutely glorious sounding and so familiar to the ear, Paiste Vintage Black Label Sound Edge 14" Hi Hats in terrific shape. 


No need to go into the sonorous specs of these Hi Hats. Just turn on the radio. 


978 and 1056 grams. Thin but still rocking. Just as you would expect! 


And yes, the serial numbers are consecutive. They're a pair! And they've been together since 1978 which is a miracle in itself. 


Bone crunching FAMOUS CHICK tone. Darker than the modern model, hell darker than any model.  Drier too because they've aged a half-a-century.  Literally. 


Been on thousands of recordings. This is Paiste's most famous series. And these are from the 8th year of production. 


Amazing shape. Crystal clear logos on top and bottom. Some of the cleanest you will ever find! 


Why the living hell buy the regular - ass new ones. These are a hell of a lot more fun to play and will continue to appreciate and age gracefully.


And they're the REAL DEAL and inspiring. They sound like your favorite record and they have a great history to them!