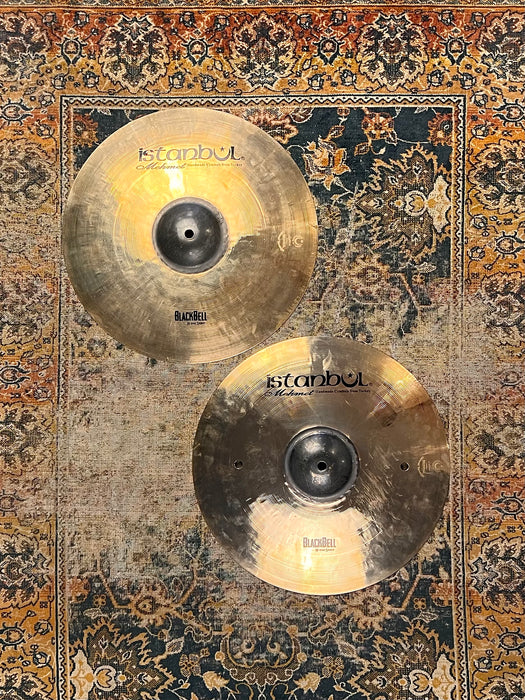 HAND HAMMERED ISTANBUL Mehmet 15" BLACK BELL Hihats 1226 1405 g Brilliant
Original price
$299.99
-
Original price
$299.99
Extremely Rare fantastic sounding Hand Hammered 15" Hihats that are wonderfully CRISP, clean and articulate.  


And I've never even seen these particular Istanbuls in a Brilliant Finish before. 


Hand Hammered Istanbul Mehmet Raw Bell Black Bell Hihats in the enormous 15" size in Brilliant Finish and in amazing condition. 


Check out those RAW BELLS. They give these beautiful 15s" great cutting ability and also lend a slightly organic vibe.  


Weighing in at a lovely 1226 grams for the Top Cymbal and 1405 grams for the Bottom Cymbal, these 15s" play like Medium Thin to Medium SEMI-Bright Crisp SHIMMERING Hihats. Of course these Hats possess all of the classic warm, semi-complex tone you would expect from actually Hand Hammered Istanbuls.  But that Brilliant Finish lends a gorgeous glassy shimmer! 


They have a particularly clean tone - a perfect compromise between Turkish Hihats and Paiste Hihats. That's the vibe! 


Of course being the larger 15s", they excel at laying tone BIG grooves and project well WITHOUT being heavy handed or overbearing.  They don't clank. 


Two Quick Beat-styled holes in the bottom cymbal for FAST foot action no air-lock - and that's a great thing when you're using big 15s"!  


These beauties sound huge but aren't sluggish! 


Crisp, clean tone with the light liveliness of truly Hand Hammered Hihats and in the FAT 15" size. Shimmering and cutting without clanking. 


Similar to Paiste Twenty Series FULL HATS BUTNIT 15s". 



No issues. Amazing shape. Damn near impossible to find. Gorgeous 15s" you'll probably not see again.