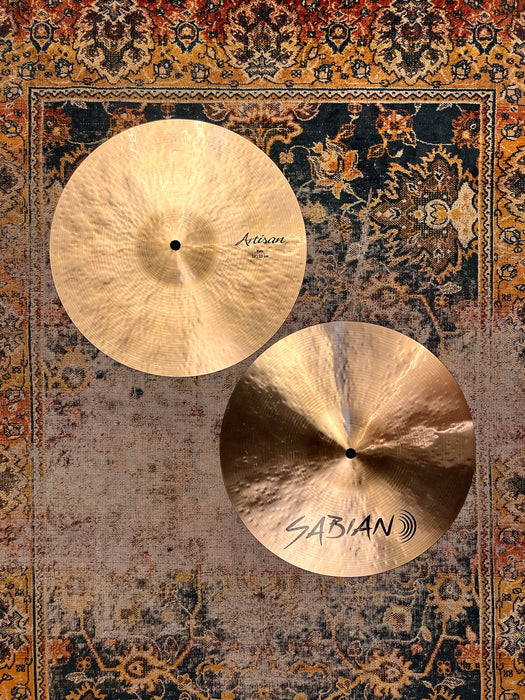 RARE DARK CRISP Sabian ARTISAN Hihats 13" 813 1296 g IMMACULATE In Bag
Original price
$469.99
-
Original price
$469.99
You never see these outside of a big box store google photo.  These are Sabian's most expensive cymbals! And with good reason!!  They're beautifully hand-crafted!  


But there's no reason to stare at a stock photo and GUESS what they sound like! 


Here you go! Have a listen! They sound amazing. This is actually the THINNEST pair of Artisan 13s" I've seen. 


Hard to Find but SO worth the search, FLAGSHIP Sabian ARTISAN Hihats in the very RARE 13" size. 


Immaculate Condition. In the SABIAN BAG -perfect!! 


And they sound absolutely phenomenal too.  


Dark.  Crisp. Warm. Light Hand Hammered Artisan complexity. All with the FAST responsive of 13s". But they remain DARK. That's the beauty of these. 


813 & 1296 grams give them a terrific CHICK tone with your foot or stick. The Top cymbal is fairly Thin so this pair is wonderfully responsive and darker than most!  


Sabian has poured 40 years of dedication to the craft into these 13s" and it is readily apparent.  


These are some of the most beautifully crafted cymbals you will find - or actually NOT find. They're hard to come by in this size. And they're hand crafted. 


Fantastic from soft to loud.  Live to recording. These 13" Artisan Hihats offer the perfect elixir of dark, crisp, warm and responsive.  



No issues.  Immaculate shape. Golden Hand Hammered. Incredible hihats.