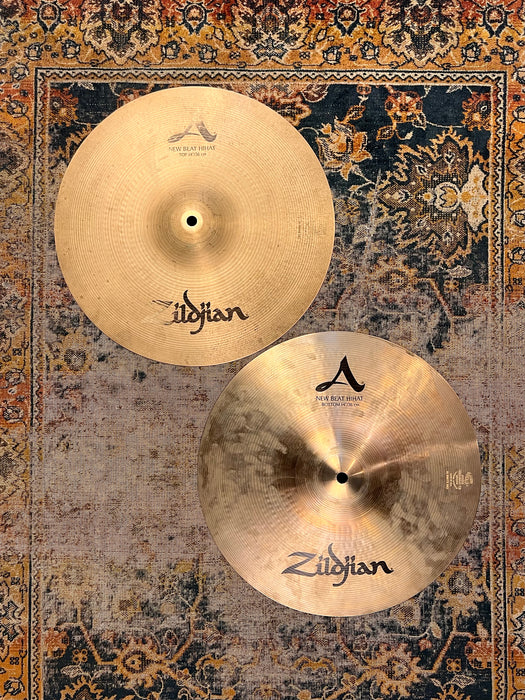 Versatile DRY Zildjian New Beat Hihats 14" 931 1426 g Don't Pay $430!!
Original price
$249.99
-
Original price
$249.99
Here's a versatile pair of surprisingly DRY Zildjian New Beats - and you can  actually HEAR THEM before you buy. The industry benchmark!


And this pair sounds damn good! 


Don't go $430 deep on a new pair and a guess at what they'll sound like! And that pair will look exactly like this pair after a few months. 


Zildjian describes their famous New Beats as:
"The Hi Hats that changed it all - A perfect combination of stick and solid "chick", New Beats are considered by many as the most versatile pair made today. The Zildjian New Beat Hats are considered the most versatile HiHat cymbals in the world today. The original design was brought to us by the late, great drummer, Louie Bellson saw sought a pair of HiHats with a solid beat and a perfect all-purpose combination of stick and "chick" sound."



931 

and 

1426 

grams give them that famous New Beat Thinner Top Heavy Bottom philosophy.


This particular pair is ARTICULATE AND DRY sounding and cut superbly without clanking.  


Drier than most! That sounds damn good! 


Super articulate attack when closed, open them a bit for a supreme FAT tone. Wide-open they deliver a massive, cutting slosh. 


Semi-Dark and wonderfully golden smooth with a dry attack. 


 Clean and cutting tone. 


Zildjian New Beats: the industry standard of hi hats, the most recorded hats in history.


No issues. Terrific light patina that dries and mellows them beautifully. 


 No need to spend $430. 



Save your money without sacrificing tone.