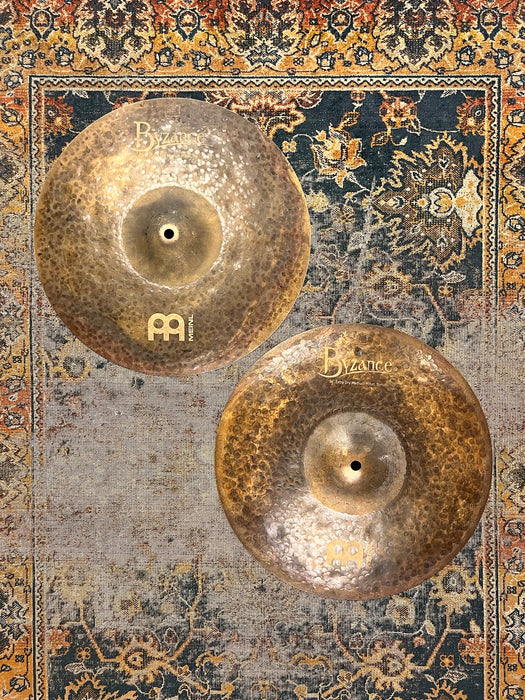 1/2 RAW DARK DRY Meinl BYZANCE Extra Dry Medium Hihats 856 1393 g THIN
Original price
$379.99
-
Original price
$379.99
RAW Top side, Fully lathed underside. Heavily Hand Hammered. Dark, dry and slightly complex! That is the joy that is these 14" Meinl Byzance Extra Dry Medium Hihats! 


Now what's not so joyful is finding a Stock photo pair online and having to pay $570 without even getting to hear what they sound like!  


That sucks!!  But I'm head to alleviate that awfulness! 


Listen to this exact pair!  They're thin and glorious! Surprisingly thin! 


Meinl describes these hihats as: 

"

 Warm and slightly trashy sound like your favorite old-school recording. Unlathed finish for a vintage grit and sizzle while still being articulate. Sensitive enough to not overpower the mix."


856 & 1396 grams. That's a thin top all right! 


Dry and articulate sticking - compliments of that Turk style raw top side. A bit of light subtle warm and complex  shimmer, thanks to the fully lathed underside! Absolutely glorious chick tone - thanks to that 1396 bottom cymbal.  
Lower profile top for darker leanings and a medium low pitch. 


Raw bell gives this pair a nice cut - which is terrific when you have a thinner top hihat. 


Perfect from a whisper to a roar. Soft to loud.  Jazz to rock.


Incredible shape. Very little use. Absolutely gorgeous. And no where near $570! 



Save your money and listen to these so you can buy with confidence.