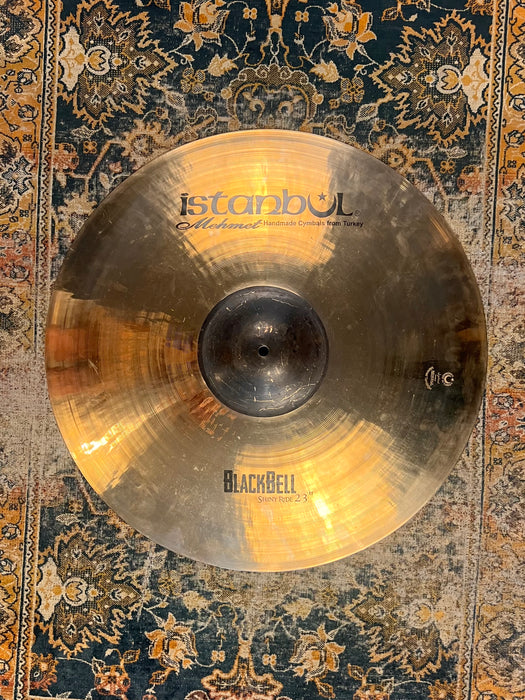 Rare 23" ISTANBUL Mehmet BLACK BELL Ride 3671 g DARK IMMACULATE Raw Bell
Original price
$359.99
-
Original price
$359.99
Here's a very Rare 23"!  I've only seen three of these before and none in a BRILLIANT FINISH! There's nothing like this out there - this 23" really IS Hand Hammered and it can occupy a lot of positions on the drum set. 


Have a listen because it's a gorgeous one. 


Beautiful Hand Hammered classic Turkish Craftsmanship on this nearly 2 foot beauty! 


This Istanbul yields the perfect elixir of great definition in a big cymbal WITHOUT clanking or being too Ping-y or heavy handed. It's warm and surprisingly dark for the weight.  


Istanbul Mehmet Black Bell 23" Ride in a stunning Brilliant Finish and in Immaculate Condition!


Very, very dark bell with a wonderfully smooth and dark tone coming off the plain of this 23"!


Weighing in at a glorious 3671 grams, this generous-sized 23" plays like a Medium to Medium Heavy Brilliant Dark Ride. What I really dig about this cymbal, is that it does not just clang its way through life. It is from Turkey after all and has that classic Turkish tone you've come to expect from HAND MADE Istanbuls! 


And this 23" is Smoooooo000000000TH. Medium dark, balanced and smooth with a light sparkling shimmer and a fantastic raw bell. 


The RAW BELL on this Beast is EXTREMELY Solid and SURPRISINGLY DARK, and slices through a mix with ease. As you migrate down to the plain of this 23", you get a fantastic, smooth and glassy stick definition that remains focused and doesn't overpower the ensuing wash. Very strong medium low pitched.  


Work your way out to the edge and this nearly 2 foot beast makes a magnificent, massive 23" DARK FULL CRASH - the likes you cannot find from a big box store. 


Dark. Wonderfully focused. Dark and penetrating Raw Bell. Golden warm and shimmering wash that percolates underneath the attack but remains controlled. MONSTER CRASH when laid into. Subtle Hand Hammered complexity. Incredibly musical. 


Hand made and you can tell. It's remarkably versatile.  And this is the only Brilliant one I have seen! 



Immaculate.  Only played for the video.